Stafford serves as grand marshal in Marked Tree Christmas parade
Monday, December 8, 2014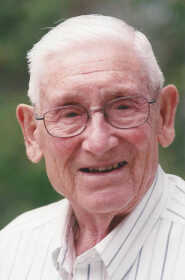 C.P. Stafford served as grand marshal in Marked Tree's Christmas parade this year.
C.P. Stafford's Marked Tree story started in 1958. Stafford and his wife of 16 years, Glada, were living near Old Weona sharing property with Glada's parents and grandmother. Stafford was working at the Tyronza Lumber Company, and he and Glada decided to move to Marked Tree. They built a house on Riverside Drive, the first house built in a cotton field on the South side of the street. Stafford continued to work at the Tyronza Lumber Company while Glada pursued her teaching career. They moved their church membership from Weona Methodist Church to First United Methodist Church. Stafford and Glada had been married 19 years when Glada gave birth to their first child, a son, Trey, born in 1961. That was followed by daughter, Paula, in 1964.
Stafford and Glada grew up in the South Central part of Poinsett County near the Poinsett/Cross county line. Stafford grew up in Hydrick, Glada in White Hall. Stafford had "taken a liking" to Glada. Stafford told Trey recently, "Once I met your Mom, there just wasn't anyone else." They were married Aug. 28, 1942. Stafford was 19, Glada was 16.
The United States was already involved in the World War II conflict. Pearl Harbor had been bombed less than a year earlier in December of 1941. Stafford knew he would be drafted so, in November of 1942 he enlisted in the Navy and was shipped out to California for training. Glada would have none of that. She told her parents she was going out to California with him. She boarded a train to California where she got a job at drug store to make enough money to live while Stafford trained.
Once Stafford finished training, he was sent to Pearl Harbor as a Pharmacist's Mate 2nd Class to care for injured soldiers. Glada packed up and came back home and waited over three years for Stafford to return.
The Tyronza Lumber Company closed in 1979, completing a 25 year service for Stafford. He spent the next few years doing carpentry work with Warren Lawson, owning and operating a restaurant in Weiner (The Restaurant), and working part-time after retirement at the St. Francis Valley Lumber Company.
Stafford and Glada loved life, and they loved each other. They committed their lives to raising their kids, volunteering and serving as fund raisers, chaperons, band parents and more positions through their kids' school careers. They were also very active in their church. Stafford served on several boards and, together, they managed the flower ministry at the church.
In 2000, Stafford and Glada felt led to pack up after over 40 years on Riverside Drive and move to Jonesboro to be near their son and his family. In May of 2000 they moved. A month later Trey and his wife, Jenna, discovered they would give birth to triplets--great timing for grandparents to move within two blocks to help during the crazy busy months that followed.
Stafford and Glada never forgot their Marked Tree connections. They frequently returned to visit their church, and to make the rounds to visit friends around town. Many lived up and down Riverside Drive in the neighborhood they lived, others lived at other places around town. It always thrilled them to be able to visit with their friends.
On April 6, 2011, Glada passed away at their home in Jonesboro. Stafford continues to live in Jonesboro in a portion of Trey and Jenna's home with their four children, daughter Ellie, and sons Treyson, John David and Chaz. Daughter Paula lives in Nashville with husband, Scott and son, Mitchell. Daughter, Rachel recently completed college at Middle Tennessee State University and has followed in her Mamaw Glada's footsteps and is teaching in Knoxville, Tenn.
Stafford says he was extremely honored to hear he had been named Grand Marshall of the Marked Tree Christmas Parade. "I am so blessed to have had so many friends during my life in Marked Tree," he said. "Thanks to everyone for being so kind to Glada, me, and our children."
Stafford's military service has gotten much attention in recent years, especially as the country is losing so many of its World War II veterans. Stafford and daughter Paula recently traveled to Washington, D.C. on a whirlwind "Honor Tour" organized to honor World War II veterans with a trip to visit monuments and other historical sites, including the World War II monument. At that monument, Stafford met former Senator Bob Dole and General Collin Powell. Recently, he was honored at a veterans program organized by the EAST Program at Nettleton High School. He was ridden in the last several Jonesboro Veterans Day Parades with Trey's radio station company.