"Be a Santa to a Senior" trees set up
Tuesday, December 9, 2014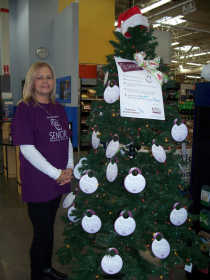 For 8 years, Home Instead Senior Care of Jonesboro has taken a different approach to the traditional Angel Tree program by setting up trees for seniors who are without family and financially challenged.
"We try to give all seniors residents in nursing homes something to look forward to during Christmas," said Vera Dungan, volunteer with the organization. "A lot of them do not have any family, or they have distant family, so this is all they have during the holidays."
Home Instead Senior Care identifies seniors through local nursing homes and works with retail stores to place trees and ornaments within their various locations. Dungan said there are close to 50 trees in Northeast Arkansas. In Poinsett County, there are trees at the Trumann Walmart, Fred's in Marked Tree, and Fred's in Harrisburg.
"They do not want a lot, volunteers usually only spend between $20 and $30," Dungan said.
Each senior's gift requests are written on a Be a Santa to a Senior tree ornament. There are almost 50 ornaments on Trumann's tree and nearly 40 on the tree in Marked Tree. Those wanting to help only need to remove an ornament, purchase the gift, and bring the ornaments and gifts back to the participating store.
"I think it's really important to give back to the seniors, especially in a situation when they have no one, because they have done a lot for our communities," Dungan said.
The deadline to grab an ornament, shop, and drop-off gifts is Dec. 15. Since the beginning of the program, Home Instead Senior Care has helped provide 1.2 million gifts to more than 700,000 seniors throughout North America.