Harrisburg falls to Highland in 4A-3 play
Thursday, December 11, 2014
Highland jumped out to a 12-0 lead and never looked back as they cruised to a 55-38 win over Harrisburg in 4A-3 basketball action this past Friday in Harrisburg.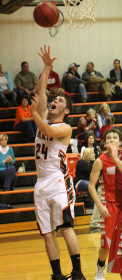 Harrisburg got a jumper from Nathan Neal with 2:56 left in the opening period for the Hornets only points. The Rebels added five more points after the Hornets basket to lead 17-2 after one.
Back to back baskets from Seth Soden and Neal made the score 21-6 Highland with 6:01 left in the second period. Soden scored inside and Neal dropped two free throws to make it 23-10 Rebels. Soden scored off a offensive rebound to make it 28-12 with 2:03 left. Neither team scored the remainder of the period.
Cade Condra scored inside after Highland opened the third hitting three out of four free throws making it 31-14 Rebels. Neal hit one of two free throws after a Highland basket to make it 33-15 Rebles. The Rebels scored the next six to go up 39-15 with 2:49 left in the period. Neal scored off an offensive rebound and Highland hit a jumper to make it 41-17 headed to the final period.
Harrisburg outscored Highland in the final period but it was a little to late. Matt Walton scored the Hornets' first four points of the fourth as he hit one of two free throws before converting a old-fashioned three-point play to make it 43-21 Rebels. Condra hit two free throws with 5:56 left to make the score 44-23 Rebels. Highland scored the next four points before Walton hit two free throws making the score 48-25 Rebels. Condra scored the next six points for Harrisburg after a Rebel basket to make the score 50-31 with 1:47 left. Walton scored inside and Condra hit one of two free throws from a Highland technical foul to make it 50-34. Condra's base line jumper and Neal's two free throws make the score 52-38. Highland hit a three to set the final score at 55-38.
Condra led the Hornets in scoring with 13 points followed by Neal with 11 points.