Wildcats win conference opener
Thursday, December 11, 2014
Trumann gave new head coach Dion Real his first conference win in their first try as the Wildcats downed Cave City 69-58 in their 4A-3 conference opener this past Friday night at Wildcat Gym.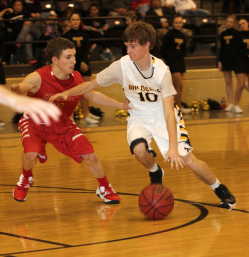 Cave City took the early 2-0 lead before Grayson Dye and Levanders Jones hit back to back buckets for the Wildcats to go up 4-2. The Cavemen tied it at 4 before Trumann scored the next six points with Tre Simmons, Dye and Connor Haag each scoring a basket to make it 10-4. Cave City scored back to back to close to within 10-8. Willie Moore's jumper right before the buzzer gave the Wildcats a 12-8 lead after the first period.
Cave City opened the second period with five straight points to go up 13-12. Trumann responded with the next seven points as Simmons canned a three-ball, Jones scored a fast break lay up and Simmons hit a jumper in the lane to make it 19-13 Wildcats. Dye got a running jumper in the lane to fall between two Cave City baskets to make it 21-18 Trumann. Matt Miles and Haag each got two free throws to fall to push the Trumann lead to 25-17. Cave City got a basket before Kevonte Andrews hit one of two free throws to set the halftime score at 26-20 Wildcats.
It seemed the defenses took the third period off as the teams combined for 39 points in the period compared to scoring 46 points combined in the first half. Cave City scored the first three points of the period to cut the lead to 26-23. Trumann reeled off the next 12 points to take a 38-23 lead. Dye and Simmons scored on back to back coast to coast lay ups to open the run. Dye hit a jumper followed by Taylor Wilson and Dye sinking two free throws each. Wilson got a put back off an offensive rebound to close the run. Cave City went on a 7-3 run with Simmons hitting a three for Trumann that made the score 41-30 Trumann. Simmons scored off an offensive rebound and Jones canned a three-pointer to push the Trumann lead to 46-30. Jones canned another three-ball after a Cavemen basket to make the socre 49-32 Wildcats. Cave City converted a conventional three-point play and hit a jumper to make it 49-37 before Miles scored inside with 31 seconds left and Simmons hit a jumper in the lane to make it 53-37 Trumann. The Cavemen converted another old-fashioned three-point play before Trumann got a driving layup from Simmons to make the score 55-40 Wildcats headed to the final period.
The teams traded baskets to open the fourth period with Moore hitting a jumper and Simmons making two free throws for Trumann to make the score 59-47 Wildcats. Simmonds connected on two more free throws followed by a Jones jumper to push the Wildcats lead to 63-47. Haag hit a free throw after a Cave City three and Dye hit a jumper between Cave City baskets making the score 66-54 Trumann. Dye hit one of two free throws and Andrews hit two free throws to make it 69-54 Wildcats before Cave City hit two last baskets to set the final at 69-58 Trumann.
Dye led three players in double digitis with 15 points. Simmons added 13 points and Jones finished with 12 for the Wildcats.