Harrisburg tumbles in Pre-Holiday tourney
Thursday, December 11, 2014
Harrisburg was outscored 21-11 in the third quarter and couldn't recover as host Ridgefield Christian School (RCS) posted a 66-57 win in a consolation game of the Pre-Holiday tournament this past Tuesday. The Hornets lost to Nettleton 58-22 in their opening round game on Monday.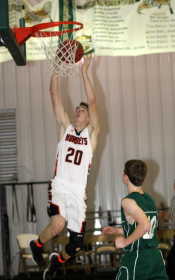 Harrisburg jumped out to a 9-3 lead as Nathan Neal opened the scoring with a jumper and Cade Condra followed with a three-pointer to make it 5-0 Hornets. Neal scored back to back baskets after a Warriors' score to make it 9-3. RCS closed the quarter on a 7-3 run to make it 12-10 Harrisburg. Condra drilled another three for the Hornets' points during the run.
RCS opened the second quarter with a 9-2 run to go up 19-14. Seth Soden scored inside for Harrisburg's points. Walker Gardner pulled the Hornets to within 19-18 with back to back baskets with 2:04 left in the half. The teams traded baskets to close the quarter with Harrisburg getting an inside score from Neal and a three-pointer from Gatlin Greeno to make it 23-23 at the half.
The third quarter opened with the teams trading the lead early on. Neal canned a three to start the quarter putting the Hornets up 26-23. RCS tied it before Neal went coast to coast for a score to make it 28-26 Hornets. RCS took a 29-28 lead before Condra's three from the right corner gave the lead back to Harrisburg at 31-29 with 5:42 left. RCS went on a 15-3 run to close the quarter taking a 44-34 lead to the final quarter. Condra's three at 1:37 had cut the lead to five for Harrisburg.
The teams combined for 45 points in the final quarter as the Hornets got as close as three before RCS hit their free throws down the stretch. The teams kept the points exchange going for the first half the the fourth quarter. Neal, Matt Walton and Greeno (inside score and three-pointer) each scored after a RCS score to make it 52-43 Warriors with just over four minutes left in the game. Harrisburg got baskets from Gardner and Condra to make it 54-47. Neal hit one of two free throws and converted an old-school three pull the Hornets to within 54-51 with 3:02 left. RCS scored the next five to stretch their lead to 59-51. Walton and Neal scored back to back baskets making 59-55 with Gardner's score after two RCS free throws made it 61-57. RCS hit five free throws over the last minute of the game to set the final score.
Neal scored 21 points for Harrisburg as Condra finished with 14 points.