Trumann advances to semi-finals of Pre-Holiday Tournament
Thursday, December 11, 2014
Trumann got 26 points from Tre Simmons as the Wildcats down Piggott 67-49 this past Tuesday to advance to the semi-finals of the Pre-Holiday tournament being held at Ridgefield Christian School. Trumann will play Brookland Thursday night at 6:30.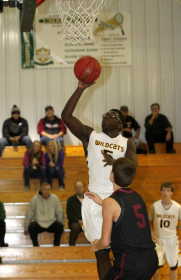 Trumann jumped out a 7-2 lead as Kyle Collins opened the scoring with a three-pointer before getting baskets from Willie Moore and Levanders Jones around a Piggott basket. Simmons got a basket inside during a 6-2 Piggott run that made the score 9-8 Wildcats. Moore's basket with 2:44 left put the Wildcats up 11-8 as Piggott reeled off 8 straight points to go up 16-11. Taylor Wilson hit a jumper in the lane for Trumann and Simmons went coast to coast for a layup with 30 seconds left to make it 16-15 Mohawks as the first quarter closed.
Connor Haag hit one of two free throws for Trumann to start the second quarter tying the game at 16. Kevonte Andrews hit two free throws to put the Wildcats up 18-16 before Piggott tied the game back up at 18 with a basket. Trumann scored the next eight points as Simmons canned two three-pointers around a Jones inside basket to give Trumann a 26-18 lead with 3:00 left in the first half. Moore got a basket inside amidst a 6-2 by the Mohawks making it 28-24 Wildcats. Grayson Dye converted a conventional three-point play and Simmons hit one of two free throws to put Trumann up 32-24 with four seconds left in the second quarter. Piggott canned a three-pointer with one second left to make the score 32-27 Wildcats at the half.
Piggott scored the first five points of the third quarter to tie the game at 32 only to see Simmons hit two baskets around an Andrews basket to put Trumann up 38-32. Piggott responded with a 11-3 run to take a 43-41 lead with 1:15 left. Wilson scored the Wildcats' three points during the run with a fast break layup and he hit one of two free throws. Trumann closed the quarter with 7-0 run to make it 48-43 Wildcats. Simmons drilled a three from the left wing before getting a steal and layup followed by a steal and layup from Kyle Collins.
Trumann opened the fourth quarter with a 7-2 run to make the score 55-45 Wildcats. Simmons scored inside, Kyle Collins canned a three-pointers and Moore scored inside during the run. Piggott cut the lead back to eight before the Wildcats scored the next six points to make it 61-47. Andrews scored back to back buckets and Simmons hit two free throws with 3:21 left. Trumann finished off the contest with a 6-2 run to set the final score. Simmons scored inside, Wilson made two free throws and Moored scored the final basket for Trumann.
Simmons led the Wildcats in scoring with 26 points as Moore finished with 10 points.