Mayor honored at last council meeting
Wednesday, December 17, 2014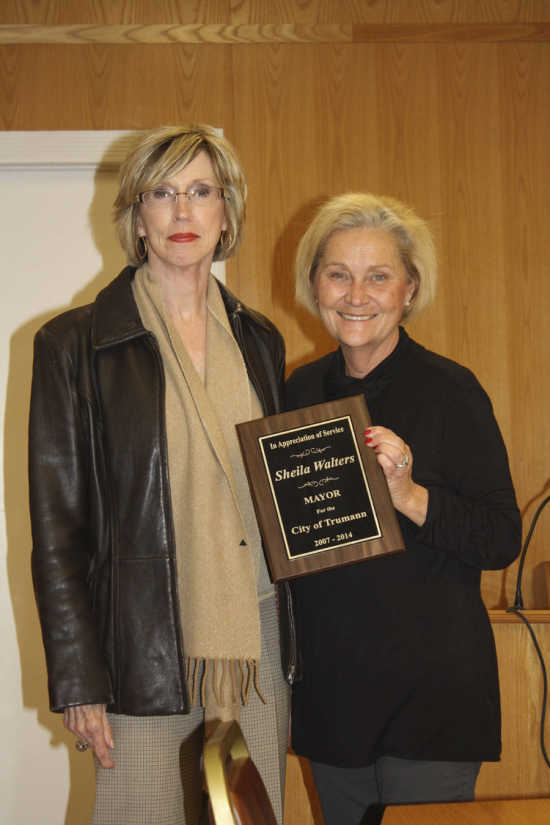 Trumann Mayor Sheila Walters was honored for her service to the community since 2007 with a plaque at her last monthly council meeting on Tuesday, Dec. 10.
"I have been honored to serve everyone," Walters said. "I have enjoyed my time here, and I appreciate Barbara [Lewallen]. I am looking forward to our city growing and prospering. We are on the road, let's just stay on it."
Others recognized for their service were aldermen Debbie Cook, Ted Walker, and Bill Francis.
In other business, the council heard from a citizen concerned with an infestation of cats on her street. She asked the council if there was an ordinance or restriction of some kind that could be made to allow the cats to be removed from the street, as their owner is not taking care of them.
After brief discussion, the council agreed to bring something to the table in the January meeting to resolve her issue. Police Chief Chad Henson advised that the council not make an ordinance until looking more into the overall problem in the city, because it would take more manpower for animal control to catch cats and dogs.
In other business, the council:
*approved an ordinance for annexation of a private property into the city.
*approved a proclamation to make December Drunk and Drugged Driving awareness month.
*approved an ordinance for the adoption of the 2015 municipal budget.