'Cats fall short against Brookland in Pre-Holiday Tourney semis
Thursday, December 18, 2014
In the battle of the cats, the Trumann Wildcats just could not get a stop on defense when it needed as the Brookland Bearcats posted a 46-41 win in the semi-finals of the Pre-Holiday tournament last Thursday at Ridgefield Christian School.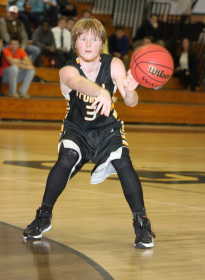 Brookland jumped out to a 4-0 lead before Willie Moore and Kevonte Andrews made baskets around a Bearcat free throw to make it 5-4 with 3:24 left in the first quarter. Tre Simmons scored back to back buckets after a Brookland three to tie the score at eight. The Bearcats took a 10-8 lead with six seconds left but Simmons' three-ball at the buzzer put the Wildcats up 11-10.
Brookland went up13-11 with a conventional three-point play early in the second quarter but Simmons tied it at 13 for Trumann with a basket inside. The Bearcats scored the next six points to go up 19-13. They would never give up the lead again. Grayson Dye scored inside and Simmons hit two free throws after a Brookland score to make it 21-17 Bearcats. Another old school three-point play from Brookland made the score 241-7 before Andrews' bucket with 37 seconds left made it 24-19 Brookland at the half.
Brookland scored the first seven points of the third quarter to go up 31-19 with 4:11 left. Simmons converted an old-fashioned three-pointer followed by two Brookland free throws making it 33-22 Brookland. Truamnn scored the last six points of the quarter with Simmons hitting a jumper between two inside baskets from Andrews to make the score 33-28 Bearcats.
Both offenses turned it up a little in the final quarter. Brookland extended their lead to 36-28 early in the fourth before Taylor Wilson scored inside to make it 36-30. Simmons hit one of two and Moore scored off an offensive rebound as the team traded points to make the score 41-33 Bearcats with 4:!9 left in the game. Levanders Jones hit two free throws and Connor Haag netted a jumper to pull the Wildcats within 43-37. Simmons made one of two free throws and Dye canned a three-pointer to make it 45-41 with nine seconds left. Brookland hit one of two free throws to set the final score at 46-41.
Simmons led the Wildcats with 16 points on the night.
The Wildcats played again Friday night beating host Ridgefield Christian School 65-24 before losing to Nettleton on Saturday to finish fourth in the tournament.