Lady Hornets downed in conference clash
Thursday, December 18, 2014
What looked to be a battle at the beginning turned into a blowout at the end. Harrisburg's gritty play gave them a 11-7 lead at the end of the first quarter. However, a bad offensive second quarter followed by an even worse third quarter put the Lady Hornets in a hole they couldn't climb out of as Brookland took a 64-44 win in Harrisburg this past Tuesday night.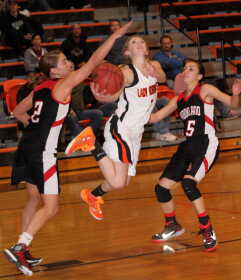 Emily Armstrong got the Lady Hornets' first points of the night as she hit two free throws to make it 2-1 Harrisburg. Keely Edwards got inside for a score to make it 4-3 Lady Hornets. The Lady Bearcats went up 7-4 before Armstrong scored inside and Edwards scored off a steal while being fouled. Edwards' free throw was good to tie the game at 7. Edwards scored off an offensive rebound while again being fouled with 11 seconds left in the opening quarter. Edwards' free throw was on mark as the Lady Hornets took an 11-7 lead after one quarter of play.
Keely Curtis canned a three-pointer with 7:10 left in the second answering a Brookland three to make the score 14-10 Harrisburg. Edwards made it 15-13 Lady Hornets with a free throw before back to back Lady Bearcat baskets gave Brookland a 17-15 lead. Curtis hit two free throws to tie the game at 17-17 with 3:33 left only to see Brookland score the next four to go up 21-17. Jessica Webb cut the lead to 21-18 hitting one of two free throws before Brookland stretched the lead to 25-18. Webb's jumper with 1:31 left made it 25-20 Brookland as the Lady Bearcats added three more points to lead 28-20 at the half.
Brookland turned the defensive pressure up and the Lady Hornets went ice cold on offense as they scored only three points in the third quarter. Sara Osban scored inside for Harrisburg to make it 22-14 Brookland with 5:47 left. The Lady Hornets went over four minutes without scoring before Webb hit one of two free throws to make it 43-23 Lady Bearcats. Brookland added two more baskets to make it 47-23 headed to the fourth quarter.
The Lady Hornets' offense came alive as they scored 21 points in the quarter, almost as many as they had scored the first three quarters. Brookland scored back to back baskets to stretch the lead to 51-23 with 6:32 left in the game. Harrisburg scored the next seven points with Curtis canning another three, Edwards on a layup and Osban on a jumper in the lane to make the score 51-30 Brookland. Webb answered a Lady Bearcat three with a three-ball of her own to make 54-33 before Osban and Curtis hit back to back baskets after another Brookland three making the score 57-37 Lady Bearcats. Meghan Scott's three-pointer and Edwards' back to back steals and layup made it 62-44 as the Lady Bearcats made one more basket setting the final score at 64-44 Brookland.
Edwards led the Lady Hornets with 14 points followed by Curtis with 10 points.
Brookland won the junior high game 30-18