Trumann to host 17th annual Christmas dinner
Tuesday, December 23, 2014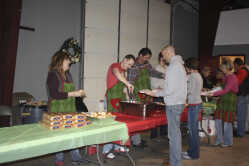 Trumann will be hosting its 17th annual Christmas dinner on Christmas Day, Thursday, Dec. 25. The dinner will be held at the TRC building at the Trumann Sports Complex at 16179 Pecan Grove. Lunch will be served from 11 a.m. to 1 p.m.
This will be the fourth year that the lunch is taking place at the sports complex. In years before, it was held at the Old Community Center, where it began with a local church doing everything. Other churches became involved, and eventually it became a town project. Lindsay Miller, who helps organize the event, said that more people come every year. She has organized the event since 2008, and enjoys it every year.
"Last year, we had right under 900 people come for Christmas with about 100 volunteer workers," said Miller. "It is my favorite part of Christmas. It blesses me to help others, especially during the holiday."
The free meal is open to the community. Places will be set up to eat inside of the building, or delivery is available.
For delivery, Trumann residents should call Missy Moody at (870)650-1053 to make arrangements.
Miller said it is a traditional full Christmas dinner with meat and vegetables. The meal is provided through donations from churches and community members. Miller said that any volunteers are appreciated for the event.
"I think the amount of people willing to come together for this during Christmas shows Trumann's true character," Miller said. "At Christmas, you can see what community is all about. There is definitely a need in Trumann, but there's definitely plenty of help to fill that need."
For more information on how to make a donation, help with the meal or recieve a meal, persons may contact Lindsay Miller at (870) 483-3183.