Hornets swatted by Westside in conference hoops play
Friday, December 26, 2014
Harrisburg tied the game early and it was the closest they would be the rest of the night as the Westside Warriors posted a 70-45 win in 4A-3 conference play this past Thursday night in Harrisburg.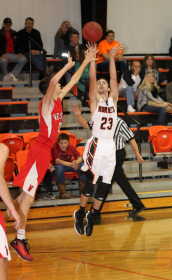 Nathan Neal answered Westside's opening score to tie the game at 2 before the Warriors reeled off the next seven points to take a 9-2 lead they would not relinquish the rest of the night. Neal scored off an offensive rebound to make it 9-4 Westside. Walker Gardner scored back to back inside baskets around to Warrior free throws to make the score 13-8 Warriors at the end of one.
Westside opened the second quarter with a 14-2 run to go up 27-10. Gardner scored the only basket for the Hornets during the run. Cade Condra drained a three to make 27-13 with 2:52 left before Seth Soden's free throw made it 32-14. Gatlin Greeno's three-pointer made it 33-17 with just over a minute left in the half. Malik Versie scored inside for the Hornets to make it 36-19 before Westside added two free throws to make it 38-19 at the half.
Neal's basket made it 40-21 with 6:48 left in the third and Condra's three-ball at 4:56 made the score 44-24. Neal hit a base line jumper during the Warriors' 9-2 run to push the score to 53-26 Westside. Condra drilled another three-pointer and Greeno hit a jumper in the lane around two Westside baskets to make the score 57-31 at the end of three.
The fourth quarter was much like the first three as every time Harrisburg got points the Warriors answered with multiple points. Neal scored inside to make it 59-33 early in the quarter. Brady Castle hit one of two free throws followed by two free throws from Neal to make it 62-36 Warriors. Neal's jumper made it 65-38 before Condra hit one of two free throws and followed that with a steal and a layup to make it 67-41 Westside with 1:26 left. Neal converted two free throws and Dillon Russell scored inside around a Westside three to set the final at 70-45.
Neal led the Hornets in scoring with 16 points as Condra added 12.