Retirement reception held for Nix, Condra and Matthews
Tuesday, December 30, 2014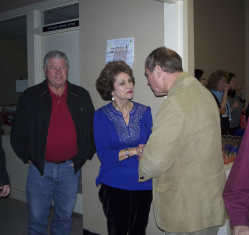 Three longtime county officials are retiring at the end of the year. A retirement reception was held at the Poinsett County Courthouse Annex on Friday, Dec. 19, for County Judge Charles Nix, County Clerk Fonda Condra, and Circuit Clerk Claudia Matthews.
Nix has served as county judge since 2008. He is also publisher of The Modern News, which he became general manager of in 1977. Nix served on the Harrisburg School Board for ten yaers, served on the Harrisburg City Council, and served one term as Harrisburg mayor. Nix has said after he retires, one of the biggest things he would like to see happen is for the cities and county to continue to work together and continue to move forward with the strategic plan for economic development the reNEW East Arkansas steering committee came up with.
Condra has served as county clerk since 2001. Prior to being elected, Condra worked for three years as first deputy to Judge Steve Ryan and had worked for ten years as election coordinator. She is also on the board for the Poinsett County Single Parent Scholarship Fund. Condra said one of her proudest accomplishments as county clerk was getting all the old marriage records, which go all the way back to 1893, scanned and electronically filed.
Matthews, who became circuit clerk in 1997, has worked in the Poinsett County Courthouse since 1991. Prior to becoming circuit clerk, she worked as a deputy clerk to former circuit clerk Barbara Eastin. In 1998, Matthews said the office began putting all records on computer, and she hopes everything since 1975 can be entered into the computers by the end of 2015. Matthews has said she was especially proud of the computer work and a $73,000 grant received last year to allow residents to check their records online.