Wildcats lose heartbreaker in tournament opener
Wednesday, December 31, 2014
Trumann led after each of the first three quarters but let a slim lead slip away in the fourth quarter as they fell to Riverside 61-58 last Tuesday in the opening round of NEA Invitational Boys Division II tournament being held at the Convocation Center in Jonesboro.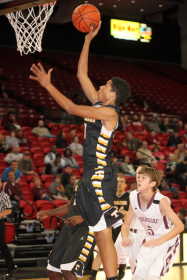 Riverside opened with two free throws to go up 2-0 before Trumann got back to back baskets from Grayson Dye and Dalton Carter to make it 4-2 Wildcats. Riverside tied it with two more free throws only to see Trumann reel off 8 points to go up 12-2. Kevonte Andrews scored inside followed by back to back three-pointers from Tre Simmons. Riverside added a basket to make it 12-6 Wildcats at the ed of one.
Both offenses heated up in the second quarter. Riverside opened the scoring with a lay up before the Wildcats scored nine straight points to go up 21-8. Simmons hit back to back baskets to start the run, Willie Moore hit one of two free throws, Andrews scored inside and Connor Haag hit a jumper to end the run. Carter scored between two Rebel baskets to make it 23-13 Trumann with 3:40 left in the quarter. Andrews scored inside for Trumann before Riverside scored the next eight points to make it 25-21 Wildcats. Simmons and Matt Miles each scored a basket around two Riverside free throws to make the score 29-23 Trumann at the half.
The Rebels opened the third quarter with a 7-0 run to take a 30-29 lead. Jay Jones canned a three for Trumann to give the Wildcats a 32-30 lead and drilled another three after Riverside tied it at 32 to the Wildcats a 35-32 lead with 4:57 left. The Rebels hit a free throw and scored inside to tie the game back up at 35. Haag and Andrews traded inside baskets with the Rebels to keep the game tied at 39. Miles converted an old-fashioned three-point play followed by baskets from Haag and Dye to put Trumann up 46-39 with 1:23 left in the quarter. Riverside responded with a 7-1 run to make the score 47-46 Wildcats after three. Andrews hit a free throw for Trumann's point during the run.
Riverside opened the fourth quarter with a 7-2 run to take a 53-49 lead they would not relinquish the rest of the game. Andrews scored inside for the Wildcats' points during the run. Dye canned a three-ball to make ti 53-52 Riverside only to see the Rebels hit a jumper to make it 55-52. Taylor Wilson got inside for a score to make it 55-54 Rebels. Riverside scored the next four to go up 59-54 with 1:22 left in the game. Andrews and Simmons scored baskets around a Riverside free throw to make it 60-58 Rebels. Trumann had one final chance for a possible tying score but was whistled for charging with about 13 seconds left. Riverside added a free throw to set the final score at 61-58.
Andrews led the Wildcats in scoring with 13 points as Simmons added 10 points.