Lady Wildcats tumble in NEA opener
Wednesday, December 31, 2014
Trumann's game plan worked well the first quarter as they trailed 10-9. Cedar Ridge must have figured out the game plan as they took a 12 point at half and blew the game open in third as they scored the first 22 points of the quarter on their way to a 53-26 win in the opening round of the girls' Division II NEA Invitational Tournament in Jonesboro.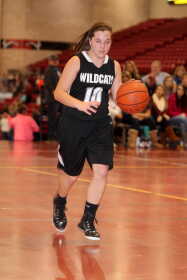 Cedar Ridge opened the game with a 10-2 run as Starlasia Simmons hit a base line jumper for Trumann's only basket. Taelor Gartman closed the quarter scoring seven points on two three-pointers and a free throw to make it 10-9 Lady Timberwolves.
Gartman opened the second quarter with a three-pointer to give the Lady Wildcats their only lead of game at 12-10. Cedar Ridge took the lead at 14-12 before Gartman tied it at 14 with a basket inside. Wood tied the game at 16 with two free throws before Cedar Ridge scored the last 12 points of the quarter to take a 28-16 lead at the half.
Cedar Ridge scored the first 22 points of the third quarter making it 36 straight points scored to open up a 50-16 lead. Hannah Wood drilled a three-pointer to make it 50-19 at the end of three.
Trumann outscored Cedar Ridge 10-3 as the mercy rule was in effect the last quarter. Zaria McGuire hit back to back baskets around a Cedar Ridge three-point play to make the score 53-23. Gartman hit one of two free throws and Natalisha Moore scored inside to set the final score at 53-26.
Gartman led the Lady Wildcats in scoring with 13 points.