Harrisburg falls victim to Timberwolves' attack
Wednesday, December 31, 2014
Harrisburg had the unfortunate task of taking on defending NEA Division II champions Cedar Ridge in the opening round of this year's tournament. The Hornets had trouble on both offense and defense as the Timberwolves posted a 64-28 win.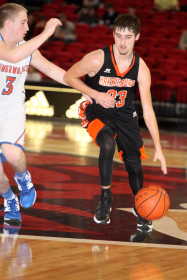 Malik Versie gave Harrisburg their only lead of the night as he scored inside to open the game. Cedar Ridge responded with a 15-0 run to make it 15-2. Cade Condra and Walker Gardner each scored a basket around two Cedar Ridge baskets to make the score 19-6 at the end of one.
The Timberwolves stretched the lead to 23-6 early in the fourth before Gardner got inside for Harrisburg to make it 23-8. Gatlin Greeno drilled a three-pointer after a Cedar Ridge score to make it 25-11 with 5:35 left in the second quarter. Cedar Ridge reeled off seven points before Seth Soden was fouled and hit one of two free throws to make the score 32-12. Gardner scored inside again to make it 35-14. Cedar Ridge added a free throw and bucket to take a 38-14 lead into the half.
Nathan Neal made one of two free throws to make the score 42-15 early in the third quarter. Condra's jumper stopped a 9-0 Cedar Ridge run making the score 51-17 with 3:39 left. Matt Walton hit one of two free throws and Condra added a three-ball after Timberwolves' baskets to make it 56-21 headed to the final quarter.
Cedar Ridge stretched the lead to 62-21 before Hunter Harris hit one of two free throws to make it 62-22. Walton and ?? converted back to back old school three-point plays to make it 62-28. Walton made one of two free throws at the buzzer to set the final score.
Condra led the Hornets in scoring with seven points as Gardner netted six points.