Lady Hornets top Manila, fall to Nettleton girls
Wednesday, December 31, 2014
Harrisburg raced out to a 10-1 lead before going on to a 58-49 win over Manila in the opening round of the girls Division II NEA Invitational Tournament in Jonesboro.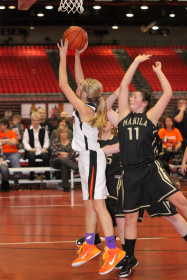 Keely Edwards opened the scoring with two free throws as Manila answered with one of two free throws. The Lady Hornets reeled off the next eight point with Emily Armstrong scoring inside, Keely Curtis canning a three-ball followed by a three-ball from Armstrong to make it 10-1. Manila scored the next seven before Jessica Webb's basket right before the buzzer made it 12-8 Harrisburg after one.
The offenses got warmed up in the second quarter. Edwards opened the quarter with a jumper to make it 14-8 before Manila scored the next seven points to take a 15-14 lead with 5:57 left. Harrisburg answered with six points as Edwards got a steal and a lay up followed by Webb making a lay up and hitting two free throws to make it 20-15 Harrisburg. Loren Craft's three-pointer made it 23-16 Lady Hornets and Meghan Scott's three-ball made the score 26-18 Harrisburg. Edwards added a free throw and Webb hit a jumper right before half to make it 29-22 Lady Hornets.
An 8-0 run by Harrisburg to open the third quarter pushed the Lady Hornets lead to 37-22. Curtis scored off the the fast break, Sara Osban scored inside, Edwards made two free throws and Armstrong scored inside. Manila connected on a three before Craft answered with a three of her own and Webb scored inside to make it 42-25 Harrisburg. Armstrong added another bucket for Harrisburg to make it 44-25 after three.
The Lady Lions tried hard to make a run in the final quarter but the Lady Hornets had an answer each time they did. The Lady Lions opened with an 11-4 run to make the score 48-36 with just under six minutes left. Webb and Edwards each had a basket for Harrisburg. Webb two free throws and Armstrong's fast break lay up made it 52-40 Lady Hornets. Manila had a quick 8-2 run to cut the lead to 54-48 as Webb scored inside for the Lady Hornets only points. Harrisburg hit four free throws in in the last minute while Manila could only connect on one to set the final at 58-49.
Webb led three players in double figures with 18 points. Armstrong finished with 12 points as Edwards chipped in 11 points.
The Lady Hornets did fare as well against the bigger faster Nettleton Raiders falling 69-39 this past Monday in the tournament. The Lady Raiders left after every quarter, 15-5, 44-23 and 64-35. Edwards was the only player in double digits for Harrisburg with 12 as Osban finished with nine.