Lady Indians win opener, fall in quarter-finals
Wednesday, December 31, 2014
Marked Tree got 44 combined points from Lexi Perry and Tullia Tull as Augusta couldn't find an answer for the duo as the Lady Indians posted a 65-40 win in the opening round of the girls' Division I NEA Invitational Tournament in Jonesboro. The Lady Indians didn't fare as well against ICC as they were handed a 70-43 loss.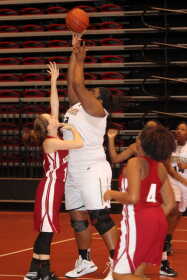 Marked Tree used a 17-1 to end the first quarter to take a 19-5 lead after one. Perry scored 12 points in the second quarter as the Lady Indians built a 42-11 halftime lead. Six different players scored points in the third quarter as Marked Tree widened it's lead to 61-28. Playing their reserves, Marked Tree was outscored the final quarter on their way to the win.
Tull led Marked Tree with 23 points while Perry finished with 21.
Against ICC, the roles were reversed as the Lady Indians had no answer for the ICC offense as the Lady Cougars opened with an 8-0 run and never looked back on their way to the win.
Tull scored Marked Tree's first points with 3:49 left making it 8-2 Lady Cougars. Perry added a basket a couple minutes later to make it 12-4. Perry added a free throw as ICC led 14-5 after one.
A 12-4 ICC run make it 26-9 with 4:02 left. Dez Reel converted a three-point play and Tull scored inside for the Lady Indian's points. Perry and Tull scored baskets, Tull's being a three-ball, around an ICC basket to make it 28-14. Lexi Perry converted a three-point play and hit one of free throws the remainder of the quarter as the Lady Cougars took a 34-18 lead to the half.
Tull and Perry scored back to back off offensive rebounds to make the score 36-22 early in the third quarter. ICC responded with a 13-2 run to go up 49-24. Perry scored inside for Marked Tree during the run. The teams traded baskets with Tull drilling another three, Perry scoring inside and Diana Harris canning a three-ball to make it 55-32 after three quarters of play.
Reel went coast to coast to open the fourth quarter and Perry scored inside to make it 57-36. Perry scored off back to back offensive rebounds making the score 65-40. Reel hit a three-pointer with 1:39 left setting the final score.
Perry scored 21 points to lead the Lady Indians as Tull chipped in 10 points.