Bay cruises past Augusta into NEA semi-finals
Wednesday, December 31, 2014
With Bay's first round by in the Division I boys' bracket, their 70-47 win over Augusta this past Saturday night put them in the semi-finals where they will face Marked Tree on December 30 in Jonesboro.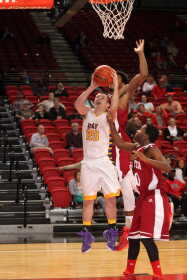 Augusta jumped out to a 5-0 lead early in the game before Colton Watson canned a three to make it 5-3 Red Devils. Watson's basket in between two Augusta baskets made it 9-5 before Bay scored the next 11 points to go up 16-9. Tyler Pritchett started it with a three-ball followed by four free throws from Watson. Watson and Taylor Layne scored on back to back lay ups to finish the run. Augusta answered with a 10-2 run of their own to take a 19-18 lead at the end of the first quarter. Watson scored off an offensive rebound for Bay's points during the run.
Pritchett's jumper to start the second quarter put Bay up 20-19. Watson's fast break lay up tied the game at 22 and Jonathan Crain's two free throws followed by basket inside game the Yellowjackets a 26-24 lead. Pritchett's two free throws made it 28-26 and Crain's two free throws gave Bay a 30-27 lead at the half.
Watson's lay up and three-pointer put the 'Jackets up 35-27 early in the third quarter. The Red Devils made it 35-29 before Bay reeled off the next 10 points to make it a 45-29 lead. Layne scored inside and followed that with a three-pointer, Dustin Utley and Crain each hit one of two free throws before Crain converted an old-fashioned three-point play. Augusta finished the quarter on a 6-1 run to make it 46-35 headed to the fourth quarter. Pritchett hit one of two free throws for Bay's point.
Bay turned up the offense as they outscored Augusta 24-12 in the final quarter. Crain converted another old school three and Pritchett and Utley hit back to back buckets after a Red Devil score to make it 53-38. Watson's back to back scores put the Yellowjackets up 57-40 with 4:48 left to play. Bay's 9-0 run less than a minute later put the game out of reach. Crain and Utley scored back to back inside buckets before Pritchett hit two free throws. Watson scored off the fast break and Layne made one of two free throws before the run was stopped with Bay up 66-43. Watson traded scores with Augusta over last two minutes to set the final score at 70-47.
Watson led Bay with 30 points on the night with Crain and Pritchett scoring 15 and 12 points respectively.