Cantrell takes over as county judge
Thursday, January 8, 2015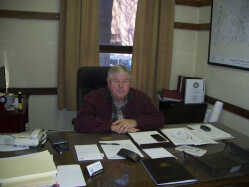 New County Judge Bob Cantrell, who took office the first of the year, hopes to do what he can to make the county a better place. "I think I can contribute to the county with what I know and the experiences I've had over the last 44 years," Judge Cantrell said.
A longtime Payneway resident, Judge Cantrell spent 40 years as a pipeline welder before retiring. He owns Cantrell Welding and Fabrication and has taught welding classes at ASUN-Marked Tree and at the ASU Technical Center in Jonesboro.
Judge Cantrell said one of his major goals is going to be focusing on improving roads and bridges in the county. "There's a lot of work that's got to be done. I have no problem doing what I can," he said. "The farm equipment has overgrown the bridges, and the roads are overloaded. There are a lot of drainage problems."
Having gone through the flooding in Payneway in 2011, Judge Cantrell said drainage is a big concern of his. The judge has already appointed a new road supervisor and plans to work on fixing roads and bridges as he can as soon as weather permits.
Judge Cantrell has also inherited some ongoing projects, such as replacing the county's shop building which suffered extensive damage from ice last year. "I feel the amount discussed [to replace the shop building] was outrageous," he said. "There are other things to be done, and I want the money to be used as wisely as we can."
After his first couple days in office, Judge Cantrell said he was not bothered by projects he had inherited from the previous year and seemed to be taking it all in stride. "I have no problem with it. I'm not flustered, and I don't have butterflies in my stomach," he said.
"I've lived here all my life. I want to make the county as good as I can," he said.