Mayor Arnold looks forward to new year
Friday, January 9, 2015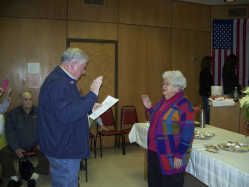 After serving as mayor of Marked Tree for just over a year, Mayor Mary Ann Arnold is excited about her new term.
County Judge Bob Cantrell swore in Mayor Arnold Monday night along with Aldermen Gail Nichols, Soozi Williams, Mary Smith, Cleo Johnson Jr., City Attorney Jobi Teague, and City Clerk/Treasurer Pam Wright.
"I think we really have an exciting year ahead of us," Mayor Arnold said. "I think we will have opportnunities present themselves, and I think we'll have a cooperative city council."
Of her goals for the new year, Mayor Arnold said her goals all along have been to clean up the city, encourage new businesses to come to town, and to continue to improve the quality of life in Marked Tree. She said she also hopes to work on getting the railroad company to clean up their land adjoining the railroad tracks.
Speaking of her experience as mayor so far, Mayor Arnold said, "It's helpful to have that one year." She said she was excited for the year ahead. "We have a new group on the city council, and they are excited also."
Mayor Arnold was also pleased with the growth happening in other Poinsett County cities. She said she was thrilled Trumann is getting a new adult education building, the Sims-Talbot Adult Education/Workforce Development Center. She was also pleased with McDonalds expanding their Marked Tree restaurant and building a new location in Harrisburg.
Arnold has served as mayor of Marked Tree since September of 2013 when she was elected to fill the remainder of Wayne Nichols' term after he passed away earlier in the year. Prior to serving as mayor of Marked Tree, Arnold had served on the Quorum Court for 22 years.