Rouse and Richardson move up in county courthouse
Thursday, January 8, 2015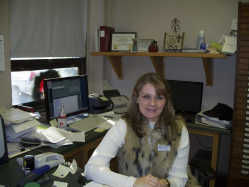 With the new year, Teresa Rouse and Misty Richardson have both moved up from their previous positions as deputy clerks to become the new county clerk and county circuit clerk.
County Clerk Rouse served for six years as deputy clerk to Fonda Condra, who retired last year. Prior to that, Rouse worked in the collector's office, across the hall from her current office in the Poinsett County Courthouse.
Rouse said the changes she plans to make will help the office run more efficiently. Her main goals for the year are for the transition to go smoothly and for the office to run as efficiently as possible.
Rouse said her interest in running for office followed a natural progression. Prior to working in the collector's office, she had worked at a bank. Rouse took over for Tammie Stanford when she was elected county treasurer and gained an interest in the county clerk position after working in voter registration and finding she loved it.
County Circuit Clerk Misty Richardson worked for 11 years as deputy clerk to Claudia Mathews, who also retired last year. Richardson said Mathews asked her to consider running for the position when she decided to retire.
Richardson is very excited to take over the position from Mathews and said her number one goal would be living up to Mathews' example. "Those are big shoes to fill," Richardson said.
As far as changes to the office, Richardson said she would be implementing technological advancements such as moving to online recording and online filing.