Lady Warriors ousted in NEA semis
Thursday, January 8, 2015
EPC played a great first half but could not keep it going in the second half as Marmaduke built a 10 points lead and maintained that lead in the fourth to win 59-49 in the girls' Division I semi-finals of the NEA Invitational Tournament held in Jonesboro.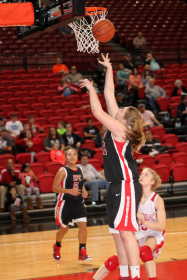 Marmaduke jumped out to a 5-0 lead before Christian Hinson and Alyson Phillips scored back to back inside baskets to cut the lead to 5-4. A 8-2 run put Marmaduke up 13-6. Hinson scored the lone basket for EPC during the run. Phillips hit a running jumper before Synteria Ward drilled a three right before the buzzer making it 13-11 Lady Greyhounds after one.
Ward got inside to make it 17-11 Marmaduke early in the second quarter. Jaleigha Garrett hit one of two free throws and Ward canned a three to make it 19-17 Lady Greyhounds. EPC scored six straight after a Marmaduke basket to take a 23-21 lead. Becca Bishop scored inside followed by back to back baskets by Ward. Marmaduke tied the game at 23 before a free throw from Ward and a Phillips basket off an offensive rebound made it 26-23 Lady Warriors. Bishop connected on one of two free throws to make ti 27-25 and Bailey Constant's free throw made it 28-27 EPC. The Lady Greyhounds scored the last five points of the quarter to make the score 32-28 Marmaduke at halftime.
A 16-2 run to in the third quarter gave Marmaduke a 48-32 lead with 1:32 left. Bishop's jumper was the Lady Warriors' only points during the run. Hinson scored inside, Bishop made one of two free throws and Constant converted an old-fashioned three-point play to make the score 38-28 Marmaduke headed to the final quarter.
EPC cut the lead to five as Bishop converted an old school three-point play before hitting a jumper to make it 43-38 Lady Greyhounds. Garrett hit two free throws with 4:38 left making it 52-45 Marmaduke. Ward hit the front ends of two one and ones to make it 55-47. Phillips and Bishop hit a free throw each in between two Marmaduke baskets to set the final score at 59-49.
"I thought we played hard, we got an extremely good effort from everybody on the floor," EPC head coach Bobby Lewallen said after the game. "Everyone except us thought it would be a blow out like last time, but we are good team and we are all clicking together, we can be tough." Lewallen added.
Bishop led the Lady Warriors with 15 points on the night as Ward added 12 points.