Warriors repeat as NEA champions
Thursday, January 8, 2015
EPC erased a 10 point first quarter deficit as they caught fire from the three-point line on their way to a 73-61 win giving the Warriors back to back Division I NEA Invitational tournament titles.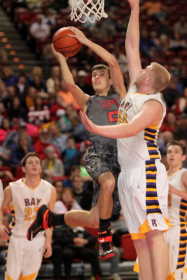 Bay jumped out an early 7-0 lead with Dustin Utley and Jonathan Crain hitting back to back jumpers and Tyler Pritchett drilling a three-ball. Clay Malone got EPC on the board with a basket off an offensive rebound to make it 7-2. Colton Watson scored the next seven points for Bay making it 14-2 Yellowjackets. Xzavier Reed got inside for a Warriors' score to make it 14-4. Taylor Layne scored inside for Bay before Malone hit two free throws and Zach Maddox scored off an offensive rebound to make the score 16-8. Crain scored back to back inside shots for Bay around a Reed jumper to make it 20-10 Bay. Reed hit another jumper for EPC before Utley's jumper made it 22-12 Bay after one.
Des Barnes hit a jumper to start the scoring in the second quarter making the score 22-14 Bay. Layne scored inside for Bay followed by a three-pointer from Barnes to make it 24-17 'Jackets. Watson hit two free throws for Bay, Malone hit a jumper in the lane for EPC and Utley and Watson scored back to back for Bay making it 30-19 Bay. Reed scored inside for EPC and Layne made two free throws to make it 32-21. Aaron Scales hit the first of four straight three-pointers for EPC before Pritchett hit a jumper in the lane making it 34-24 Bay. Barnes, TJ Young and Malone each drilled a three-ball to close the gap to 34-33 Bay. Watson was whistled for a technical foul after a foul on Reed. Reed hit four straight free throws to make it 37-34 EPC. Cade Prince scored inside for Bay, Reed hit a jumper for EPC and Layne made two free throws for the Yellowjackets to make the score 39-38 EPC at the half.
The Warriors only allowed Bay two points in the third quarter as they took control of the game. Reed hit a three for EPC to start the final quarter giving the Warriors a 42-38 lead. Crain scored inside to make it 42-40, the closest Bay would get the rest of the game. EPC scored the next eight points as Malone scored off an offensive rebound, Scales got inside for a score, TJ Young drilled another three-pointer and Malone made one of two free throws to make it 50-40. Bay held the ball for the next three minutes trying to get a last second basket but EPC got a hand on a pass that led to a TJ Young fast break lay up right before the buzzer to make it 52-40 Warriors headed to the last quarter.
Bay's offense came to life in the final quarter but it was a bit to late. Pritchett hit one of two free throws to start the fourth making it 52-41. Reed was good on one of two free throws and followed with a steal and lay up to give EPC a 55-41 lead. Pritchett converted an old school three for Bay, Malone scored inside for EPC, Pritchett hit one of two free throws and Reed made a lay for the Warriors to make it 61-45 EPC. Scales was whistled for a technical foul for EPC after Crain had been fouled for Bay. Crain hit one of two on the foul shots and Layne sank both tech free throws making the score 61-48 EPC. Pritchett hit three free throws for Bay around a Reed free throw for EPC making it 62-51 Warriors. EPC scored the next four points with Reed hitting two free throws and TJ Young connecting on one free throw making the score 66-51 EPC. Layne canned a three for Bay, Montrell James was good on two free throws, Utley hit a three for Bay and Malone was good on two free throws for EPC to give the Warriors a 70-57 lead. Reed hit two free throws for EPC before Layne drilled another three-ball making it 72-60 EPC. EPC's Malone and Bay's Tyler Harrell traded a free throw to set the final at 73-61 Warriors.
"What a big win and a big confidence booster for our team," EPC head coach McKenzie Pierce said following the game. "I challenged to guys after our Earle game to play self-less basketball, team basketball and they responded. I'm so proud of this team," Pierce added.
"We did everything right in the first quarter. When they had their run in the second quarter, we lost our composure," Bay head coach Brad Brannen said of his team after the game. "It's a game of runs, they will have runs and we will have runs, it's who handles them the best is going to win. We didn't handle it very well tonight," Brannen added.
Reed led all scorers with 27 points for EPC followed by Malone with 19 points.
Bay was led by Layne with 16 points as Pritchett and Utley finished with 13 and 11 respectively.
EPC got to the title game with a 61-60 thrilling win over Marmaduke in the semi-fianls. James hit a three-pointer with five seconds left to give the Warriors the win. Reed and James both scored in double digits with 20 and 12 points respectively.
Bay down Marked Tree 75-53 to reach the finals. Bay had three players in double figures with Watson scoring 26 points, Pritchett netted 21 points and Utley scored 13 points.
Terry Carter scored 17 points to lead Marked Tree as D'Angelo Griffin Daneil and Tirek Young each scored 12 points.