Bay stings Wildcats in non-conference clash
Thursday, January 8, 2015
Bay jumped out to the early lead and never trailed as they downed Trumann 62-37 in a non-conference match-up this past Tuesday in Bay.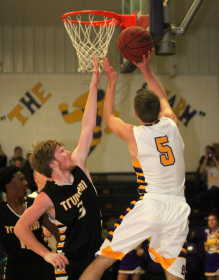 Tyler Pritchett opened the game with a three-pointer that was followed by a steal and lay-up from Colton Watson to put Bay up 5-0 early. Grayson Dye got a steal and lay-up to get Trumann on the board making it 5-2 'Jakcets. Watson canned a three for Bay as Simmons answered with a three-ball from Trumann making it 8-5 Bay. Pritchett canned another three for Bay, Simmons got a steal and lay-up for the 'Cats and Pritchett connected on two free throws making the score 13-7 Bay. Simmons netted another three-pointer for Trumann before Bay scored the last seven points of quarter to take a 20-10 lead. Pritchett hit two more free throws, Watson was good on a jumper in the lane and Taylor Layne drilled a three-pointer for the 'Jackets.
Trumann opened the second quarter with a 6-2 run to get within five at 21-16. Kevonte Andrews got a tip in basket for Trumann, Dustin Utley was good from three for Bay and Dye drilled a three-ball and was good on one of two free throws for Trumann. Watson and Crain scored baskets for Bay around a Taylor Wilson free throw to make it 25-17 Yellowjackets. Dye cut the lead to five with a three-pointer making the score 25-20 Bay. Watson converted an old-fashioned three-point play, Pritchett scored inside and Watson sliced in for a lay up to push Bay's lead to 32-20. Connor Haag's layup for the Wildcats and Layne's jumper for Bay set the halftime score at 34-22 'Jackets.
The third quarter opened with Crain scoring inside for Bay to extend their lead to 36-22. Wilson got a jumper to fall for Trumann before Crain hit one of two frees and Watson scored inside for Bay to make it 39-24 'Jakcets. Dalton Carter was good on a three-pointer for Trumann to make it 39-27 Bay. Watson and Pritchett scored inside baskets for Bay around a Haag jumper to make the score 43-29 after three quarters of play.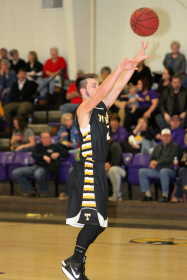 Bay opened the fourth quarter with an 8-2 run to widen their lead to 51-31. Pritchett hit a jumper for Bay, Andrews scored inside for Trumann before Utley and Crain scored back to back baskets and Pritchett made two free throws for the Yellowjackets. Wilson scored off an offensive rebound for Trumann before Watson converted an old-school three-point play, Crain hit one of two free throws for Bay and Pritchett scored inside for Bay to make the score 57-33. Simmons hit two of three free throws after being fouled shooting a three for Trumann making the score 57-35 Bay. Watson hit three of four free throws on two trips to the line and Ryan Austin hit a jumper for Bay making it 62-35. Patrez Turner hit a jumper for Trumann right before the buzzer to make the final score 62-37 'Jakcets.
Watson led all scorers with 24 points for Bay as Pritchett added 20 points.
Simmons scored 10 points to lead Trumann.