Wanda Sharp
Tuesday, January 13, 2015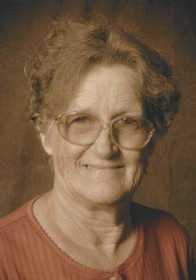 HARRISBURG - Mrs. Wanda Gean Sharp of Harrisburg, died Jan. 8, 2015 at St. Bernard's Medical Center in Jonesboro at the age of 78. Mrs. Sharp was born in Thayer, Mo. and had lived most of her life in Harrisburg. She was a housewife and of the Baptist faith. She was preceded in death by one brother and her mother, Ivory Mable Thompson Hooker and step-father, Raymond Louis Hooker.
She is survived by her husband, Billy Joe Sharp of the home; one daughter, Sabrina and husband John Ryan of Jonesboro; and two grandchildren, Rachel Nicole Ryan and Hayden John Michael Ryan.
Funeral services were Jan. 10 in the chapel of Thompson Funeral Home with Rev. Jeff Weaver officiating. Burial followed in the Holly Springs Cemetery in Harrisburg.
Pallbearers were Hayden Ryan, John Roberts, James McClung, Jason Wilson, Jordan Caughron and Nathan Champion.
An online register book can be signed at www.thompsonfuneralhome.net