Reba Jo Gottfried
Tuesday, January 13, 2015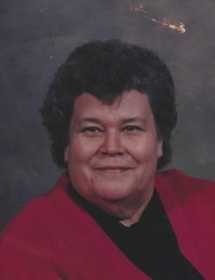 TRUMANN - Ms. Reba Jo Gottfried died Jan. 8, 2015 at Arlington Cove Health Care Center in Trumann at the age of 79. Ms. Gottfried was born in Oil Trough to the late Rudolph and Della Nancy Jane Fuller Gottfried and had lived in Trumann for the past 51 years and was formerly of Newport. She was retired factory worker, Den Mother for 15 years for Trumann Boy Scouts and the Youth Director for Eastside Baptist Church and a member of Providence Baptist Church. Ms. Gottfried was preceded in death by one brother, Charles Gottfried and her parents, Rudolph and Della Nancy Jane Fuller Gottfried.
Survivors include one son Scotty Gottfried of Trumann; one granddaughter, Heather Gottfried of Fort Worth, Tex.; four sisters, Jane Stites of Olyphant, Ark, Kay Short of Trumann, Martha Cupp of Anderson, Mo., and Dorothy Gottfried of Trumann; three brothers, Dean Gottfried of Bella Vista, Ark, Roy Gottfried of Trumann, and Michael Gottfried of Topeka, Kan.
Funeral services were Jan. 12 at Providence Baptist Church in Trumann with Rev. Bobby Brooks officiating. Burial followed in Kellers Chapel Cemetery in Jonesboro with Thompson Funeral Home of Trumann in charge of arrangements.
Pallbearers were Phillip Wilcockson, Earnie Link, Jackie McHalffey, Randy Harvel, Michael Hudgens Rodney Hayes, Matthew Bufford and William Summers. Honorary pallbearer was Christian George.
An online guest book can be signed at www.thompsonfuneralhome.net.