Bay wins sixth straight Kell Classic title
Thursday, January 15, 2015
Jonathan Crain set the tone of the Bay defense by blocking Southside's first two shots of the game and when the Yellowjackets' offense got going, they were unstoppable as they won their six straight Kell Classic title 72-46 this past Saturday in Swifton.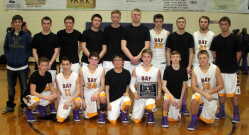 Bay jumped out to a 14-0 lead in the first half of the opening quarter. Colton Watson and Tyler Pritchett hit back to back three-pointers to make it 6-0. Layne scored off a Watson steal and Crain scored back to back baskets to make it 12-0. Watson cruised in for a layup off a Dustin Utley steal to end the run. Southside got on the board to make it 14-2 Bay. Pritchett hit a jumper lane and Southside hit a jumper making it 16-4 'Jackets. Watson scored off a Layne steal before Layne converted an old-fashioned three points play to make it 21-4 after the first quarter.
The 'Jackets pushed the lead to 30-4 with nine straight to open the second quarter. Crain scored inside, Pritchett sailed in for a lay up, Watson converted an old-school three and Crain scored inside again. The Southerners hit a jumper before Bay scored the next eight making the score 38-6. Watson hit back to back three-points bombs and Utley hit two free throws. Pritchett hit a three-pointer after a Southside basket and Cade Prince scored inside after a Southside three-ball to make it 43-11 'Jackets. The Southerners scored the next six points before Pritcehtt scored right before the buzzer to make it 45-17 Bay at halftime.
Pritchett scored the first five points of the third quarter with two free throws and and a three-pointer to push the Bay lead to 50-17. Watson hit a three-ball between two Southside scores to make the score 53-21 Yellowjackets. Pritchett and Watson hit three-pointers around a Southerner score followed by an inside basket from Ryan Austin to make it 61-23 Bay. Austin hit two free throws between back to back three-pointers from Southside making the score 63-29 Bay. Matthew Barnett hit one of two free throws for Bay before Southside scored the last five points to make it 64-34 'Jakcets headed to the final quarter.
The mercy rule was in effect the fourth quarter as Bay emptied their bench. Matthew Willard hit a jumper before Southside scored the next three to make it 66-37 Bay. Barnett hit a three-ball to make it 69-37 as the Southerners scored the next nine points making it 69-46 Bay. Quinton Francomano netted a three-pointe for Bay to set the final score at 72-46.
"We shot the ball well, almost 60% from the field and 50% from three-point, that always helps," Bay head coach Brad Brannen said after the game. "We are playing better defensively, the guys are starting to trust each other and they are starting to buy in to what we want to do on defense. Stuff we do defensively translate to our offense," Brannen added. Asked what makes this tournament to Bay, having won six titles in a row, Brannen said, "It's good to start the new year with a tournament title. This old gym, with all it's history, it's just a special place for us to play."
Watson scored 24 points for Bay to lead all scorers while Pritchett added 20 points.