New chest compression machine helps save lives
Wednesday, January 21, 2015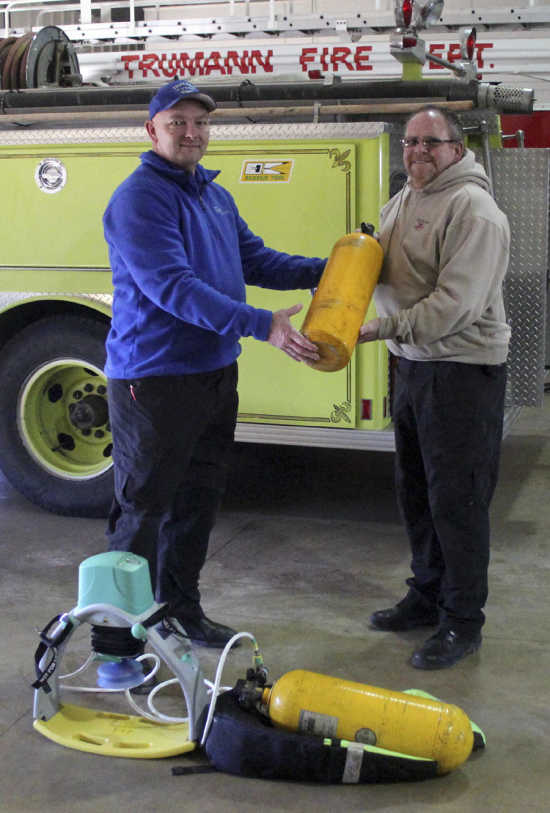 Trumann EMS has a new piece of equipment which they have already put to work saving lives. In late December, Trumann EMS acquired a Lucas chest compression device, pneumatic machine which takes over the job of doing CPR compressions and frees up paramedics for other necessary tasks.
Using pressurized air, the Lucas device performs regular CPR compressions near the American Heart Association's recommended 100 beats a minute. The air tanks used for the device are being furnished at no charge by the Trumann Fire Department.
According to Trumann EMS paramedic Eric Leasure, the device is life-saver in more ways than one. In the three weeks since Trumann EMS has had the device, they have needed to use it three times and got heartbeats back on all three patients. They got a heartbeat back on one of the patients before the ambulance even left the scene, an especially rare occurrence since the patient was elderly. "It's rare to get a pulse back on them," said Trumann EMS paramedic Israel Porterfield.
"For us, being 20 to 30 minutes from the nearest hospital, this is a big leap in quality of care," Leasure said.
In addition to helping patients, the compression device has helped the paramedics too. Doing continuous CPR on a patient is a tiring job. Leasure said before they got the device, two people would be assigned to CPR duty so one could always be doing compressions to make sure medications were circulating throughout the patients' system. This took the crew down by 50 percent, and 100 compressions a minute is not an easy rate to maintain for very long without getting worn out. "When you put it on and know it's doing a better job than you could, it's worth it for the time CPR takes away from other procedures to get proper compression," Leasure said.
Leasure and Porterfield both agreed the device was a big step forward in quality of care for Trumann not only because of Trumann's distance from hospitals but also because of Trumann's limited resources. A city the size of Jonesboro has multiple ambulance crews in town that can be called in to help if needed, but Trumann has fewer EMTs to work with. For a small town ambulance service, a machine which does the job of two to three people is a life saver.