Dorothy Woodruff
Thursday, January 22, 2015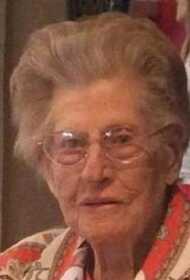 TRUMANN - Mrs. Dorothy Louise Borum Woodruff of Trumann, died Tuesday, Jan. 20, 2015 at the family residence at the age of 94. She was born Sunday, June 13, 1920 in Fort Morgan, Col., and lived most of her lifetime in Trumann. Mrs. Woodruff was a housewife and a member of Pleasant Valley Baptist Church in Trumann. She was preceded in death by two brothers, Richard Borum and Chuck Borum; and her parents, Clarence and Frieda Stephens Borum.
She is survived by her husband of 72 years, Charley Woodruff Jr., of the home; son and daughter-in-law Richard and Joan Woodruff of Trumann; daughter and son-in-law, Donna and Danny Pippinger of Trumann; four grandchildren, Richard and Somer Woodruff, Michael and Susan Woodruff, Petina and Jimmy Pace, and Derek and Andrea Pippinger; 16 great-grandchildren, Rashawn and husband Craig, Dalton, Ben, Wesley, Hunter, Jay, Jase, Zach, Zoey, Ella, Aubrey, Braden, Crawford, Chance and Ciara; one great-great-granddaughter, Emmy Lou.
Funeral services were held Jan. 22 at Pleasant Valley Baptist Church in Trumann with Rev. Larry Loggins and Rev. Paul Hale officiating. Burial followed in Jonesboro Memorial Park Cemetery in Jonesboro under the direction of Thompson Funeral Home of Trumann.
Pallbearers were Marvin Massey, Bill Wagner, Tommy Davis, Brent Henderson, Jim Goforth, Derek Green, Greg Green and Larry McMullins.
Special thanks to Dr. Adam Woodruff, Dr. Steve Woodruff, Deb and Jennie.