Lady Indians beat rival EPC
Friday, January 23, 2015
Lexi Perry scored Marked Tree's first nine points of the fourth quarter breaking open a 35-35 as the Lady Indians defeated rival EPC 49-39 last Thursday in Marked Tree.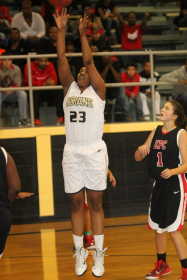 The teams traded scores for the first part of the quarter with Perry opening the scoring for Marked Tree before Synteria Ward answered for EPC with a jumper to make it 2-2. Diana Harris canned a three-pointer for Marked Tree and Christian Hinson scored inside making it 5-4 Lady Indians. Tullia Tull rebounded her own missed shot and scored inside to make it 7-4 Marked Tree. Alyson Phillips scored the next four points for EPC with two free throws and a steal and layup to give the Lady Warriors an 8-7 lead Perry scored back to back baskets to make it 11-8 Marked Tree before Jaleigha Garrett's basket made it 11-10 Lady Indians at the end of one.
Ward went coast to coast for a score to make it 12-11 EPC early in the second quarter. Tull tied the game at 12 hitting one of two free throws. Ward connected on one of two free throws before getting inside for a layup to give EPC a 15-12 lead. Perry scored inside and Kambria Marshall hit a jumper to give the lead back to Marked Tree at 16-15. Garrett hit one of two free throws for EPC to tie the game at 16 before Hinson scored inside to give the Lady Warriors an 18-16 lead. Tull's free throw with just under a minute left got Marked Tree to within one at 18-17 but Hinson scored inside and Ward scored after a steal to make it 22-17 EPC at the half.
Garrett hit one of two free throws early in the third quarter to make it 23-17 Lady Warriors before Dez Reel's jumper for Marked Tree made it 23-19. Becca Bishop hit a jumper for EPC and Perry scored inside for Marked Tree to make it 25-21 Lady Warriors. Phillips made it 28-21 EPC with a three-ball before Tull hit a jumper for Marked Tree making the score 28-23 EPC. Garrett again converted one of two free throws for EPC followed by an inside basket from Perry for Marked Tree to make it 29-25 Lady Warriors. Ward hit back to back three-pointers for EPC around an inside basket from Marked Tree's Perry making it 35-27 EPC. Tull hit back to back three-balls for the Lady Indians around a Perry basket to tie the game at 35-35 after three quarters of play.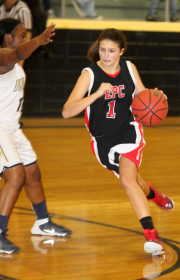 Perry scored the next four baskets plus hit the free throw after being fouled on the last basket to give Marked Tree a 44-35 lead. Hinson's two free throws for EPC made it 44-37 before Marked Tree got a jumper from Tanna Tacker and free throw from Tull to push the lead to 47-37. Ward hit two free throws Perry scored inside to set the final score at 49-39.
Perry lead all scorers with 27 points for Marked Tree as Tull chipped in 13 points.
Ward was the only EPC player in double figures as she finished with 17 points.
The Junior Lady Indians won 22-19 in overtime and the EPC 7th grade won 20-16.