EPC gets conference win over Marked Tree
Friday, January 23, 2015
EPC raced out to an early lead and led wire to wire as the avenged an early season loss to Marked Tree by posting a 49-38 win this past Friday in Marked Tree.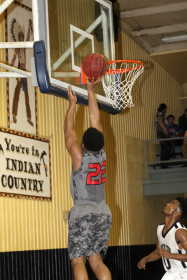 EPC's Xzavier Reed and Marked Tree D'Angelo Griffin Daniel traded baskets to open the game before the Warriors' TJ Young canned a three-ball and teammate Aaron Scales scored inside to make it 7-2 EPC. Tirek Young made of one of two free throws for Marked Tree and was answered with another three-ball from TJ Young to make the score 10-3 Warriors. Reed scored off the fast break for EPC and Terry scored inside for Marked Tree to make it 12-5 EPC after one.
Des Barnes stretched the EPC lead to 14-5 with two free throws early in the second quarter. Marked Tree got an inside basket from Carter and Daniel hit one of two free throws to make it 14-8 EPC. Reed hit one of two free shots for EPC to make it 15-8 before LaQuinton Miles scored the next seven points for Marked Tree to tie the game at 15. EPC got back to back baskets from Clay Malone and two free throws from Barnes to make the score 21-15 with 10 seconds left before the half. Cameron Mitchell drove in for a layup right before the buzzer for the Indians making it 21-17 EPC at halftime.
Scales and Malone had back to back scores to stretch EPC's lead to 25-17 early in the third quarter. Carter hit one of two free throws for Marked Tree before TJ Young canned another three-pointer to make it 28-18 Warriors. Marked Tree got a basket from Carter and free throw from Daniel with Scales making a basket after each of those scores for EPC to make the score 32-21 EPC. Daniel and Young each made a basket around a free throw from Malone to make it 33-25 Warriors. Barnes scored back to back buckets for EPC to push the lead to 37-25 before Daniel hit two free throws with just under a minute left to make ti 37-27 after three.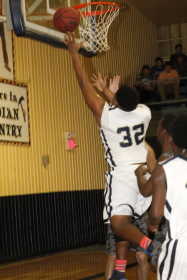 Reed scored inside, Scales put back in offensive rebound and Reed scored on a layup to stretch EPC's lead to 43-27 to start the final quarter. Daniel converted an old-school three for Marked Tree, TJ Young drilled a three-ball for EPC, Daniel again converted an old-school three and Malone was good on a three-pointer for EPC to make it 49-33 EPC. Miles made back to back buckets and Young hit a free throw for the Indians to make the final score 49-38 Warriors.
TJ Young scored 13 points to lead EPC with Scales adding 12 points.
Daniel led all scorers with 14 points for Marked Tree as Miles netted 11 points.
Marked Tree on the junior high game 35-29.