Late run costly for Lady Wildcats
Friday, January 23, 2015
Trumann held their own for two and half quarters against Pocahontas. A 10-0 run by the Lady Redskins in the last half of third quarter turned a two-point lead into an eight-point deficit and the Lady Wildcats couldn't recover as they fell 47-31 in 4A-3 conference play this past Monday in Trumann.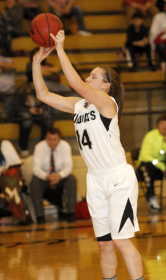 Trumann led 3-0 early as Starlasia Simmons hit one of two free throws followed by two free throws from Taelor Gartman. Pocahontas scored back to back baskets to take a 4-3 before Gartman canned a three-pointer to put Trumann up 6-4. Kelcie Roland's basket off an offensive rebound gave the Lady Wildcats a 8-6 lead. The Lady Redskins went up 9-8 only to see Simmons toss in a three-ball to make it 11-9 Trumann. Simmons scored inside to make it 13-11 Trumann as Pocahontas scored a bucket late to tie the game at 13 after one quarter of play.
Gartman's free throw early in the second quarter made the score 15-14 Lady Redskins and her three-point basket tied the game at 17. Roland gave Trumann a 19-17 lead with two free throws and again gave her team the lead at 21-19 with another basket off an offensive rebound. The Lady Redskins again got another basket late to send the team to the half tied at 21.
Roland's third basket off an offensive rebound tied the game at 23 and Gartman's free throw gave the Lady Wildcats a 24-23 lead. Gartman't three-pointer with 5:49 left in the third gave Trumann their last lead of the night at 27-25. Pocahontas closed the quarter with a 10-0 run to take a 35-27 lead to the final quarter.
The Lady Redskins scored the first six points to cap off a 16-0 run and take a 41-27 lead. Gartman made jumpers around a Pocahontas basket to make it 43-31 before the Lady Redskins added four free throws down the stretch to set the final score.
Gartman finished with a game high 17 points for the Lady Wildcats.
Trumann lost the junior high game 36-26 as well as the seventh-grade game 19-13.