'Cat get big conference win
Thursday, January 29, 2015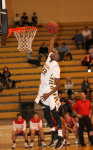 Tre Simmons scored 25 points for Trumann as the Wildcats downed Highland 52-48 in 4A-3 conference action this past Friday in Trumann.
The Wildcats jumped out 4-0 on baskets from Jay Jones and Dalton Carter before Highland hit back to back shots making it 5-4. Simmons canned a three-ball before the Rebels scored the next eight points to take a 13-7 lead. Simmons answered by scoring the next six points, the final points on a dunk, to tie the game at 13 after one quarter of play.
Connor Haag opened the second quarter with a three-pointer followed by baskets from Grayson Dye and Simmons to make it 20-13 Wildcats. Highland cut the lead to 20-17 before Simmons drilled another three to make the score 23-17. The Rebels cut it to 23-20 only to see Jones get a basket inside and hit one of two free throws to make it 26-20 Trumann at the half.
Trumann stretched the lead to 28-20 with a baseline jumper from Simmons early in the third quarter. Kevonte Andrews' basket inside made it 30-22 before Highland scored the next four points to cut the lead to 30-26. Simmons and Jones each made a basket around two Rebel free throws to make it 34-28 Wildcats at the half.
The offenses' for both teams decided to pick up the pace in the final quarter as the teams combined for 36 points. Highland cut the lead to three before Andrews made one of two free throws and Jones was good on two foul shots to make the score 37-31. Dye hit one of two free throws and then scored on a layup making it 40-33 Trumann. Jones scored after grabbing an offensive rebound and Simmons canned another three-pointer and followed with two free throws to make the score 47-38 Wildcats. Highland cut it to 47-42 with less than a minute left before Dye hit one of two free throws followed by two free throws from Simmons to make it 50-42 Trumann. Dye ending the scoring on the night with two free throws to make the final 52-44 Wildcats.
Jones was the only other Wildcat in double figures with 11 points.