Watson carries Bay by EPC
Thursday, January 29, 2015
Coltan Watson scored 31 points, including the first 18 for Bay, to help the Yellowjackets defeat EPC 52-48 in high school basketball action this past Tuesday in Bay.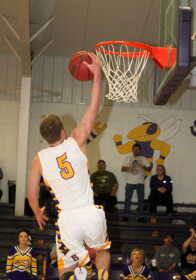 "He (Watson) played well and kept us in the game, Bay head coach Brad Brannen said of his senior player. "He hit some big shots and passed the ball off when he needed to, we just didn't convert on those chances," Brannen added.
Despite missing three starters, Xzavier Reed, Des Barnes and TJ Young, the Warriors jumped out to a 8-0 lead in the first half of the opening quarter. Zack Maddox hit one of two free throws to open the scoring followed by a three-pointer from Montrell James. Clay Malone added a jumper and James scored a layup off an Aaron Scales steal. Watson hit a jumper for Bay to stop the run making the score 8-2. Scales got inside for a bucket before Watson scored the next seven points on two jumpers around a three-pointer to make it 10-9 EPC. Jamal Rodgers scored off an offensive rebound for the Warriors only to see Watson tie it at 12 with another three-pointer. James and Scales scored back to back buckets to make the score 16-12 EPC after one.
EPC stretched their lead to 21-12 as Malone drilled a three-ball to start the second and Quinn Young followed with a tip in for the Warriors. Watson was good on a jumper before Young canned a three of his own making it 24-14 EPC. Watson scored inside and hit two free throws to cut the lead to 24-18. James scored inside for EPC before Tyler Pritchett and Cade Prince hit back to back shots to make the score 26-22 EPC at the half.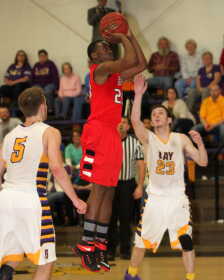 Pritchett opened the third quarter with a basket and followed with two free throws to tie the game at 26. Scales went coast to coast for an EPC layup before Taylor Layne scored inside for Bay making the score 28-28. Scales scored again for EPC off an offensive rebound and Watson connected on two free throws for Bay to make it 30-30. Young and Scales scored back to back buckets to make it 34-30 EPC before Watson grabbed a rebound and scored to making it 34-32 EPC. Rodger scored inside for the Warriors and Pritchett canned a three-ball for Bay to make it 36-35 headed to the final quarter.
Jonathan Crain gave Bay their first lead of the night at 37-36 with a basket inside to start the fourth quarter. Watson followed that with a three-pointe to make it 40-36 Bay. Malone hit a base line jumper before Watson and Pritchett hit back to back shots pushing Bay's lead to 44-38. Malone scored inside for EPC, Crain got a put back off an offensive rebound for Bay and Malone was good on a jumper for EPC to make the score 46-42 'Jackets. Watson hit four straight free throws on consecutive trips to the line making it 50-42 Bay. Young hit back to back three-pointers around a Pritchett free throw to cut the Bay lead to 51-48. Pritchett hit a free throw with four seconds left to seal the win.
"We played better the second half, we ran our sets and good things happened," Brannen said about his team's play. "Our rebounding his horrible and we have to do a better job of that, Branned added.
Pritchett added 13 points for Bay.
"Heart," was EPC head coach McKenzie Pierce's response when asked about his team's play tonight. "We had kids playing positions they normally don't play and to play like we did, I'm excited for our team. I thought we played well enough to win, but we fell short," Pierce added. When asked about the three suspended players, Pierce said, "They violated team rules and the personal conduct policy. They made a mistake and hopefully they will learn from their actions."
Young led the Warriors with 13 points as Malone finished with 11 points and Scaled netted 10 points for EPC.
In the two junior high games earlier in the evening, Bay's girls beat EPC 56-34 before the EPC boys got a 47-37 win.