Lepanto mayor welcomes questions from council
Wednesday, February 4, 2015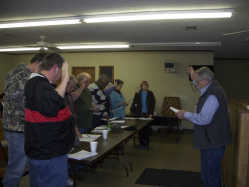 Lepanto Mayor Dale Dunlap presided over his first city council meeting in eight years Tuesday night. Business on the agenda was brief with council members passing the proposed 2015 operating budget for the city and accepting a five year contract with Riverside Ambulance for ambulance service.
After business, Mayor Dunlap welcomed questions from the council, saying he was going to be doing things a little differently. He said he had taken a look at the animal shelter and found it lacking. "It's definitely not what we need," Mayor Dunlap said. Though nothing has been set yet, he said he had been in talks about improving the animal shelter and would look into using the dogcatcher better.
Work started this week on the project to replace 13,000 feet of the city's corroded water lines. When asked if extra money left over from the project could be used to purchase digital water meters, Mayor Dunlap said he would like to get digital meters. "If there's any way we can do this, it will save the city money," Mayor Dunlap said. He told the council he would bring figures for the project to next month's meeting.
Mayor Dunlap also urged alderman to check on their wards and bring things to his attention that he may miss, such as rundown properties. "Nobody hates litter and junk more than I do, and we will work on it," he said.
"There are a lot things this town needs. It's going to take all of us working together," Mayor Dunlap said. "There's no disgrace to being a bedroom community, but you want to be a good one."