Marked Tree chamber plans banquet, next project
Wednesday, February 4, 2015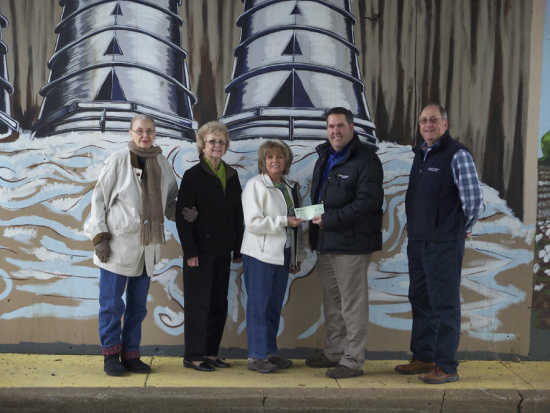 After receiving a grant of $2,500 from Farm Credit Midsouth for their mural project at the Nathan Street underpass, the Marked Tree Chamber of Commerce is looking to put the finishing touches on that project and focus on others.
Mike Williams, V.P. Branch Manager for Farm Credit Midsouth, presented chamber members with the check for the grant last week. Chamber President Sandy Teague said the grant money would cover refurbishing the mural and landscaping for the area. She said the mural will be touched up and sealed this week.
The next project for the chamber will involve renovating a piece of land at the Carver Gym which is the site of a historic Booker T. Washington statue. The statue sits across the street from the gym at the corner of Sam Anderson Avenue and Savannah Parr Street. Chamber member Mary Smith said she has been in contact with Rev. Ray Scales of New Mt. Zion Baptist Church in Jonesboro, the church which owns the property, and he has granted the chamber permission for the project and is ready to move forward.
"We want to do landscaping to have it as a neat and pretty place to honor the people who grew up there," Smith said.
The chamber has also started planning for their annual banquet, which will be held at 6 p.m. on Tuesday, March 17, at First United Methodist Church. The chamber plans to have Trey Stafford act as master of ceremonies and auctioneer for the evening. "We'll bring back some old stuff for him to reminisce with us about. He's a Marked Tree guy, and he loves to come back," Teague said.
Auction items will be open for viewing at 5:30 p.m. There will also be cash giveaways during the banquet.