Fox designing school for Wilson, Arkansas
Wednesday, February 4, 2015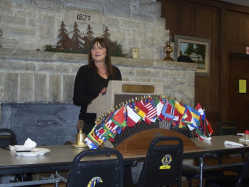 When Jennifer Fox was offered the chance of a lifetime, the opportunity to design a school from ground up with the freedom to do whatever she wanted, she took it.
Fox told the Trumann Lions Club recently her career had taken her on a long road that led from Milwaukee, Wis., where she was born, around the country and around the world until she ended up in Wilson, Ark.
Fox always knew she wanted to be a teacher, but she wanted to be a writer more. She decided she would compromise by teaching during the school year, and writing during the summer. She began her career as a teacher in Colorado, where she stayed for five years before her natural wanderlust caught up with her. After her stint in Colorado, she taught in Turkey for a year and in Kenya for two years.
The people who ran the school she taught at in Kenya told her she should be a school principal, so when she returned to the states, Fox attended Harvard and went on the become principal of a girls Catholic school in Colorado. She turned the school around and became known for turning around troubled schools. Fox turned around schools in California, Florida, and New Jersey before she tired of constantly moving.
Fox said one of her keys in turning schools around was focusing on helping children find out what their strengths were. "Each of us is born into life with a purpose. Our job as parents and teachers is to help our children find their purpose," Fox said.
At about this time, Fox was contacted by an author who was doing the same thing for the corporate world which she was doing for the teaching world. She was invited on the book tour, which eventually led to a half million dollar book deal of her own. For the next couple years, Fox left schools and went on a speaking tour for her book, but she soon tired of it. "I didn't want to be famous and concentrate on selling my brand," Fox said. "I wanted to write and work in schools."
She found herself working in a school again, but its problems proved difficult to untangle, so she stopped, got out of the business of fixing schools, and spent the next six months writing. Then a phone call brought her back in and led her to Arkansas.
Fox was contacted about coming to Wilson, Ark., to participate in a unique experiment. The town was bought by Gaylon Lawrence Jr., who owns over 165,000 acres of farmland in four states, five banks, the world's largest privately owned air conditioning distributor, and a citrus operation in Florida. The rural town of Wilson has a popluation of just over 900 people, but Lawrence is working to transform into a center for arts, culture, and education. Fox was asked to come aboard to design the school with the promise she could do whatever she wanted with it.
Fox was wary of the project at first because she had retired from that business, but when she visited the town and saw the plans for what it could become she became excited and started coming up with ideas. "I said I'd help them make it happen," Fox said.
Fox said the steel mill going in at Osceola is expected to bring in 500 jobs, and those jobs are part of what Lawrence hopes will help the town grow. New houses are being built to accomodate families who are expected to come in, the Wilson Cafe has been remodeled, more restaurants will be put in, artists will be enticed to come in, and Fox has been in charge of designing the school being built.
Fox's approach to the school has been to design a more hands-on curriculum as opposed to a curriculum based around teachers lecturing. There will be a makers space and a school garden, and the school will engage children in active, real world learning.
The Delta School will open this August with about 30 students with plans to teach 100 kids next year. It is a private school with Lawrence funding 41 percent of the tuition. The plan is for the tuition to be funded 100 percent in the future through scholarships paid for with various products coming out of Wilson.
"For me, what's really compelling is this opportunity comes to hardly anybody," Fox said. Fox is excited about this job because instead of fixing others' mistakes, she is able to start fresh and create a school herself.