Doctor prescribes dog for Cooper
Wednesday, February 4, 2015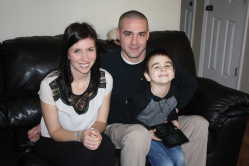 At three years old, Cooper Mason was diagnosed with Asperger's Syndrome, a high functioning form of Autism that can lead to difficulties in everyday life events. With his diagnosis causing sudden outbursts in crowds and everyday anxiety around loud noises and new surroundings, his doctor gave him an unusual prescription: an assistance dog. Now a year later, his parents, Jaclyn and Chad Mason, are asking for the community's help to raise enough money for Cooper to get an Autism Assistance Dog, which can be trained to help Cooper prevent his "meltdowns."
The dog will be trained to handle behavior disruption, tethering, and tracking. The total cost of training for the dog is $22,000; however, through the organization 4 Paws for Ability, the Masons only have to raise $14,000 of it. Since November, they have raised just over $3,000.
"As a mother, I want to know that I did everything possible for Cooper so that he may experience childhood as any other child would," Jaclyn said.
She added that her son is loving, cheerful, and smart. More important to her than raising money for the dog is raising awareness for Autism and Asperger's Syndrome.
"There's nothing wrong with him to fix," Mrs. Mason said. "He's very loving and caring child, he just can't handle over-stimulation."
In addition to selling Autism Awareness headbands and bracelets, the Masons are organizing a silent auction and a walk/run event. The walk/run is to be held at Craighead Forrest Park at 9 a.m. on April 18 with a dog competition afterwards.
If the Masons do not reach their fundraising goal, Jaclyn said the money would still go to a child in need through the organization.
For other parents of children with special needs, the Masons said education and research on the diagnosis is extremely important.
"If you're not sure, but you know something is different about your child, then get them tested," Mrs. Mason said. "Early intervention is key to this, and just ignoring the problem or waiting for it to go away isn't going to fix it."
Autism affects 1 in 68 children and 1 in 42 boys. The Masons hope that sharing Cooper's story will help others to be more aware of Autism and the struggles that diagnosed children undergo.
To learn more about how to help Cooper in his journey with 4 Paws for Ability, Jaclyn may be contacted at (501)358-9154 or coopersjourney14@gmail.com. Donations may be made at www.firstgiving.com/fundraiser/copper-mason/coopersjourney14 or mailed to 4 Paws for Ability, 253 Dayton Avenue, Kenia, OH 45385, on Cooper's behalf.