Lady Yellowjackets roll by Ridgefield Christian School
Thursday, February 5, 2015
Katie Ferguson and Sydney Higgins combined for 46 as Bay (6-1) rolled past the Lady Warriors 54-37 this past Friday in Bay.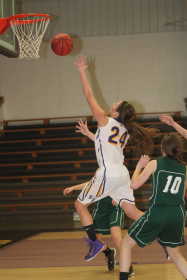 The first quarter saw RCS get out to a 6-2 lead with Ferguson scoring Bay's only basket over the first four and half minutes of the game. Serena Brown scored off an offensive rebound to make it 6-4 before Ferguson canned a three-pointer to make it 7-6 Bay after one quarter of play.
Ferguson drilled back to back three-pointers to open the second quarter pushing Bay's lead to 13-6. Ferguson hit a jumper and Higgins netted a three-ball after a Lady Warrior basket to make the score 18-8 Lady 'Jakcets. Higgins hit two free throws and Ferguson scored inside making it 22-10 Bay. RCS cut the lead to 22-13 only to see Ferguson hit anohter three right before halftime to make the score 25-13.
Bay scored the first six points of the third quarter as Higgins hit a three-pointer, Ferguson was good on two free throws and Higgins scored on a fast break layup to make the score 32-13. Nicole Goldman drained a three-pointer and Ferguson went coast to coast for a layup after a RCS basket making it 37-15 Bay. The Lady Warriors went on a 7-3 run to make the score 40-22 with Goldman hitting another three for Bay's only points. Higgins' three made it 43-22 Bay before RCS scored the last eight points of the quarter to make it 43-30 headed to the final quarter.
Bay opened the fourth quarter with a 7-3 run as Ferguson scored all seven points with an inside score, a jumper in the lane and another three-pointer to make the score 50-32. RCS hit three of four free throws to make it 50-35 before Higgins scored back to back inside baskets to make it 54-35 Bay. RCS added another basket to set the final at 54-37 Lady 'Jakcets.
Ferguson finished with a game-high 26 points as Higgins netted 20 points for Bay.
The Junior Lady Yellowjackets won the junior high game 61-19.