Defense, big fourth quarter carries Lady Hornets to win
Thursday, February 5, 2015
Harrisburg used solid defense and a big offensive fourth quarter to break open a tie on their way to a 57-43 4A-3 conference win over Trumann this past Monday in Harrisburg.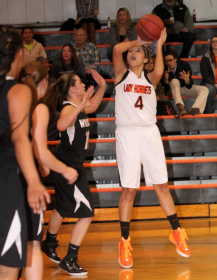 Lady Wildcat Taelor Gartman opened the scoring with a basket off an offensive rebound to give Trumann the early 2-0 lead. Harrisburg got baskets from Emily Armstrong, Keely Curtis and Armstrong again to go up 6-2. Gartman canned a three-pointer and followed that with a layup to give the Lady Wildcats a 7-6 lead. Keely Edwards tied it for the Lady Hornets hitting one of two free throws before Amber Kent's jumper put Trumann up 9-7. Armstrong, Edwars and Jessica Webb made consecutive baskets to make ti 13-9 Harrisburg at the end of one.
The Lady Hornets stretched their lead to 17-9 as Armstrong and Sara Osban hit back to back shots to open the second quarter. Gartman scored inside and hit two free throws for Trumann to cut the lead to 17-13. Osban hit a jumper for Harrisburg before Zaria McGuire and Desarae Harris each connected on jumpers for Trumann to make it 19-17 Harrisburg. Webb got inside for a score followed by a steal and layup by Edwards plus a free throw from being fouled to give the Lady Hornets a 24-17 lead. Harris hit a baseline jumper for Trumann and Curtis' jumper found its mark to make the score 26-19 Harrisburg at the half.
Trumann opened the third quarter with a 7-0 run to tie the game at 26. Gartman canned a three-ball to open the quarter and followed with layup. Starlasia Simmons' two free throws tied the game. Edwards got inside for an easy basket for Harrisburg making it 28-26 Lady Hornets before Hannah Wood answered with a basket inside and followed it with a three-pointer to make it 31-28 Trumann. Osban's baseline jumper made it 31-30 Lady Wildcats before Wood drilled another three-pointer to put Trumann up 34-30. Osban hit back to back baskets for the Lady Hornets to tie the game at 34 before Gartman and Webb traded baskets to make it 36-36 at the end of three quarters of play.
Harrisburg's 7-0 run to start final quarter gave them a lead they would not give up. Edwards and Webb both hit one of two free throws, Armstrong had a steal and layup and Edwars converted an old-school three-point play making a layup to make the score 43-36. Gartman hit a jumper for Trumann before Webb answered with a jumper and Curtis scored an easy bucket after a steal to push the Lady Hornets lead to 47-38. Simmons converted an old-fashioned three-point play followed by two free throws to cut the Harrisburg lea to 47-43. Harrisburg closed the game with a 10-0 run to set the final. Armstrong canned a three-pointer followed by a jumper from Osban. Edwards and Webb each hit one of two free throws before Osban hit two free shots to make ti 55-43. Curtis got behind the Trumann press for an easy basket making the final 57-43 Harrisburg.
Edwards, Osban and Armstrong each had 13 points apiece for Harrisburg as Webb chipped in 10 points.
Gartman scored 20 points for Trumann to lead all scorers.
Harrisburg's 7th grade got it's first win of the season winning 11-10. The Trumann Junior Lady Wildcats won a close one, 35-34.