Charles Thomas Montgomery
Wednesday, February 18, 2015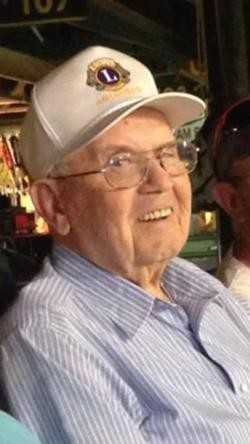 TRUMANN - Mr. Charles Thomas Montgomery, 93, of Trumann, went home to be with his Heavenly Father on Friday, Feb. 13, 2015 in Trumann. Mr. Montgomery was born Feb.10, 1922 in Victoria, Ark., to the late Charles Minor and Ida Lorene Richardson Montgomery and had lived in Trumann since 1949. He was a member of the First Baptist Church in Trumann. He served his country as a Staff Sergeant in the United States Army for three years during World War II. He was a member of the Trumann Lions Club for 65 years, Trumann Masonic Lodge, The American Legion and Trumann School Board for 21 years, serving several years as president. He was a retired owner of Holt Lumber and Hardware Company in Trumann and later served as Trumann City Inspector.
He was preceded in death by his wife, Virginia Beebe Montgomery; one son, Dale Beebe Montgomery; two sisters, Omelia Ferguson and Deloris Ashworth; and one brother, Wayne Montgomery.
He is survived by one daughter, Susan and husband John Crocker of Trumann; two sons, Tom and wife Judith Montgomery of West Memphis and James Terry "Jimmy" Montgomery and fiance' Victoria Harris of Trumann; seven grandchildren, Amy and Rod Hayse, Kelly and Mike McNutt, Hally and Matt Stolz, Leah and Mick Fike, Cynthia Acree and fiance' Chris Andrews, Beth and Tre Jensen and Chase Montgomery and fiance' Ashley Poole; 16 great-grandchildren; two great-great-grandchildren; one stepdaughter, Pat Hester of Jonesboro; one stepson James Lee "Jimmy" Wright of Jonesboro; seven step-grandchildren; and nine step great-grandchildren.
Funeral services were Feb. 16 at the First Baptist Church in Trumann with Bill Beebe and Rev. John Maley officiating. Burial followed in Marked Tree Cemetery at Marked Tree under the direction of Thompson Funeral Home in Trumann.
Serving as pallbearers were Chase Montgomery, Joe Mitchell, Ronnie Harrison, Bryan Smith, Dean Norris and Oliver Hinds. The Trumann Lions Club served as Honorary pallbearers.
In Lieu of flowers, the family request memorials be made to the First Baptist Church, P.O. Box 575, Trumann, AR and the Trumann Lions Club, P.O. Box 1, Trumann, AR
An online register book can be signed at www.thompsonfuneralhome.net.