Lady Hornets swarm Westside
Friday, February 13, 2015
Harrisburg closed the first quarter with a 10-3 run to lead by six and never looked back on thier way to a 62-37 over the Lady Warriors in 4A-3 confrence action this past Monday in Harrisburg.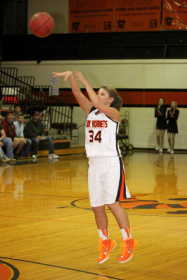 Emily Armstrong opened the scoring with a steal and layup to make it 2-0 Harrisburg. Armstorng made it 3-0 hitting one of two free throws before Westside made it 3-2 Lady Hornets. Jessisca Webb's jumper made it 5-2 Harrisburg only to see Westside hit back to back baskets to take a 6-5 lead. Harrisburg scored the next eight points with Sara Osban hitting two free throws followed by consecutive baskets from Keely Edwards, Webb and Armstrong making the score 13-6. Osban scored late in the quarter to make it 15-9 Lady Hornets after one.
Osban's basket in between two Westside scores made the score 17-14 Harrisburg early in the second quarter. Edwards canned a three-pointer and was followed by an old-fashioned by Osban to push the Lady Hornets lead to 23-14. Back to back Westside baskets made it 23-18 before Edwards scored back to back baskets for Harrisburg making the score 27-18. The Lady Warriors added a basket in the final minute to make it 27-20 Harrisburg at halftime.
Westside cut the lead to 27-22 to start the third quarter before Osban, Edwards and Webb scored consecutive baskets to push the Harrisburg lead ot 33-22. Loren Craft was whistled for a technical foul but the Lady Warriors missed both free throws before Keely Curtis scored inside and Craft drained a three-pointer to make it 38-22 Lady Hornets. Craft's jumper made it 40-24 and Edward's free throw made it 41-28 heading to the fourth quarter.
Webb scored inside to start the fourth stretching Harrisburg's lead to 43-28. Armstrong and Webb answered Westisde's scoring with baskets of their own to make it 47-32 Harrisburg. Craft drilled a three-ball and Edwards converted an old-school three-point play to make th score 53-32 Lady Hornets. Armstrong scored inside, Edwards hit a jumper and Craft netted another three-pointer following a Westside score making it 60-34 Harrisburg. Edwards scored right before the buzzer to set the final score at 62-37 Harrisburg.
Four players scored in double digits for Harrisburg with Edwards leading the way with 19 points. Craft and Osban each finished with 11 points as Webb chipped in 10 points.