Wilma Mae Madden
Tuesday, February 24, 2015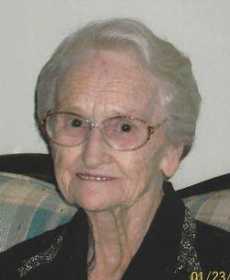 TYRONZA - Mrs. Wilma Mae Madden of Tyronza died Wednesday, Feb. 18, 2015, at St. Bernard's Medical Center in Jonesboro at the age of 89. She was born Saturday, Jan. 23, 1926 in Ravenden Springs, Ark. to the late W. M. and Rosa Hughes Riddle. Mrs. Madden had lived in Tyronza for the past 45 years and was formerly of Trumann. She was a housewife and a member of the Upper Room Apostolic Church in Tyronza. She was preceded in death by her husband, J.P. Madden; one daughter, Stella Rose Madden; three sisters; three brothers; and her parents.
She is survived by one daughter, Joann Chaffin and husband Doyle of Warm Springs, Ark; two sons, Larry Madden and wife Linda of Tyronza and Gary Madden and wife Tina of Jackson, Tenn.; one brother, Ray Riddle of Harrisburg; one sister, Jean Heald of Memphis; six grandchildren Greg Chaffin, Deborah Kurfman, Cresta Kain, Chris Madden, Todd Bradford and Case Bradford; and 11 great-grandchildren.
Funeral services were Feb. 21 in the chapel of Thompson Funeral Home in Trumann with Bro. Lynn Vinson officiating. Burial was private in Holly Springs Cemetery near Harrisburg.
Pallbearers were Chris Madden, Chris Kain, Greg Chaffin, Tyler Chaffin, Myles Chaffin and Todd Bradford.
An online register book can be signed at www.thompsonfuneralhome.net.