A Fond Farewell: remembering Charles Montgomery
Thursday, February 26, 2015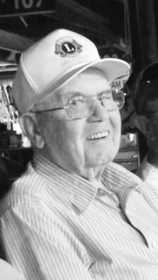 [Editor's note: This story ran in the Feb. 26 edition of the Democrat Tribune with a headline and cutline misidentifying Charles Montgomery. The staff of the Democrat Tribune apologizes for this error.]
In 2005, a headline in the Trumann Democrat read "Local man has spent life working in community."
Grover Welch began the story by saying "Charles Montgomery has spent his life treating other people as he would like to be treated. He has spent his years in Trumann trying to the shape the community through local organizations into a place where citizens are proud to live."
Ten years later the citizens of Trumann said a fond farewell to Charles Thomas Montgomery who passed away at the age of 93 on Friday, Feb. 13. Mr. Montgomery was born in 1922 in Pride to Charles Minor and Ida Lorene Richardson. He was the third of four children.
"I remember my parents were good, caring, Christian people," Montgomery said in the 2005 article. "My father would show us he cared by putting us before everything else. He never would let us get out of school to work on the farm because he said our education was too important."
Following graduation from Marked Tree in 1940 Montgomery served his country as a staff sergeant in the United States Army during WWII. He served in North Africa with the 70th General Hospital Unit where he saw what war did to guys he helped.
"I know it shaped how I looked at people for the rest of my life," he recalled.
Montgomery was able to come home from the war on emergency leave to be with his father who was dying of cancer. By the time everything was settled the war was over. He was discharged in 1945.
He took a job at Barton's Lumber Company in Marked Tree and transferred to Trumann in 1949. He later went to work for Arthur Holt at the Holt Lumber Company. After Holt's death Montgomery and L. B. Baker bought the business. They worked together at the lumber company until his retirement in 1987. He managed to stay retired for three months before serving as the Trumann city inspector until 1997.
Anthony Cossey, Sports Editor at the Democrat Tribune, learned a lot from Montgomery. Cossey worked for Holt Lumber Company while in high school.
"He was always smiling and talked with everyone. He had a strong work ethic and expected me to put in a full day's work for a full day's pay. I learned the value of hard work from Mr. Montgomery," said Cossey.
Montgomery said, "I believe that if you live somewhere you have a responsibility to work to make it better."
He put the town of Trumann, a place he called home since 1949, high on his list of priorities. He dedicated his life to making Trumann a better place for everyone. Montgomery served on the Trumann School board for 21 years, 15 of those years as board president. He was appointed to the board in 1956 to complete a term and stayed through his children's education. All three of his children received their diplomas from him. Montgomery was instrumental in shaping the education system in Trumann.
Charles Montgomery was a dedicated member of the Trumann Lion's Club for 65 years. He believed it was an honor to give back to the community. He also belonged to the Trumann Masonic Lodge, The American Legion and was a member of the First Baptist Church in Trumann.
The legacy of Charles Thomas Montgomery belongs to more than the children, grandchildren, great-grandchildren and great-great-grandchildren he left. The people of Trumann truly owe Mr. Montgomery a sincere Thank You for his many many years of service.