Trumann Chamber holds annual banquet
Sunday, March 1, 2015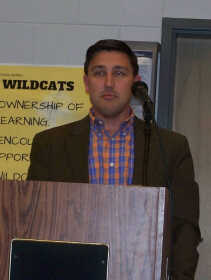 The Trumann Chamber of Commerce held their annual banquet on Tuesday, Feb. 24 to a packed crowd. The guest speaker was Josh Brown of Haag Brown Commercial Real Estate and Development, the company involved in bringing an Orscheln Farm and Home store to Trumann on the property being developed beside Walmart.
Brown, originally from Poinsett County, spoke about his ties to Trumann. His wife is from Trumann, and his office staff all grew up in Trumann. He said one of the biggest things he sees that would help bring more development to Trumann is getting the I-555 interstate designation. The only holdup on the interstate designation is the lack of a service road for farm equipment traveling between Payneway and Marked Tree.
Brown answered several questions from the audience about what the city can do to attract business and economic development. He spoke of the importance of foundational things like having a clean, attractive community and having a great school. He also emphasized the importance of making a case for how many people are served by the city, which is often far more than the amount of people who actually live in the city.
2014 Chamber President Paul McAnally encouraged people to help Trumann thrive by spending their money locally as much as possible. "I challenge you to spend your money locally because that will turn over multiple times," McAnally said. He also commended both Mayor Barbara Lewallen, former chamber director, and current Chamber Director Neal Vickers for helping to make the chamber as strong as its been in the 15 years he has been involved with it. Vickers took over as director after Lewallen started as mayor of Trumann in January. "You couldn't ask for a better replacement for Barbara as Neal Vickers. He's invested in making Trumann stronger," McAnally said.
Vickers told the crowd that when he was traveling the country years ago as an education placement specialist, he saw a lot of schools, but he had never been in a school better than the Trumann School District. Vickers was especially proud of Trumann School's 1:1 initiative to put a computer in the hands of every student. "To me as a business owner, alumni, and an educator, that means we have an advantage," Vickers said. "When I represent you to a prospective business, I can tell them people graduate from our high school with computer skills beyond the average user."
The following people and organizations were presented with awards during the banquet:
*Patricia Bean--Oustanding Educator
*David Thompson--Citizen of the Year
*Leonard and Sandra Nightingale--Excellence in Agriculture
*Linda Smith--Outstanding Chamber Member
*Scott Richards--Outstanding Chamber Board Member
*Columbia Forest Products--Business of the Year
*Trumann Food Pantry volunteers--Community Service Award