ASU Heritage Site Program gains support from county
Monday, March 2, 2015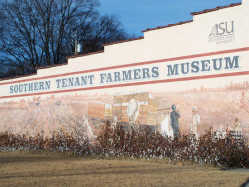 The Quorum Court and several city councils in Poinsett County have passed resolutions recently supporting ASU's effort to secure funding from the state legislature to keep all the Arkansas Heritage Sites going. Ruth Hawkins, Executive Director of the Arkansas Heritage Sites at ASU, is working diligently to secure the funding for the program.
The Arkansas Heritage Sites Program is a partnership between Arkansas State University and rural communities in the Eastern Arkanasas Delta region, including Poinsett County. The Southern Tenant Farmers Museum in Tyronza and the Historic Dyess Colony: Boyhood Home of Johnny Cash are among some of the key sites operated through the program.
When the program began, the sites were acquired at the request of legislators who represented the areas in which they were located. While legislators were to work on getting ongoing operating funds for the sites through state general revenues, ASU owned the sites, applied for grants and restored the properties making them what they are today.
"Unfortunately, the economic situation in our state and nation has changed, and it has not been possible to obtain ongoing funding," said Hawkins.
Hawkins said ASU and area legislators have worked to piece together temporary funding for the program from year to year for the past 15 years. The temporary funding has come from general improvement funds, grants, university reserve funds, and other sources. However, she said most of the temporary sources have dwindled or no longer exist, putting the funding for the sites in jeopardy.
"We cannot continue to pull together adequate funding to keep all of these sites open on a regular basis," Hawkins said. "We are faced with the very real prospect of closing at least one of the sites or looking at alternative owners or methods of operation."
The resolution passed by the Quorum Court read "Poinsett County travel/tourism statistics continue to increase each year, at a time when many other economic sectors in the Delta region are flat or decreasing." According to the Arkansas Department of Parks and Tourism, this included 52,748 visitors to the county in 2013 who generated $11.7 million in travel-related revenues, 82 travel-related jobs, a $1.4 million travel-related payroll, $211,130 in local tax receipts, and $742,385 in state tax receipts.
"While the heritage sites typically do not generate enough through admissions, gift shop sales, and rentals to be self-sustaining,their economic value is in the revenue they trigger in the region through food, lodging, retail purchases, and through local and state sales tax generated," Hawkins said.
The program is working to gain support from other local governments in the county and other counties to receive funding to keep and operate the sites.