Bay named volunteer community of the year
Tuesday, March 3, 2015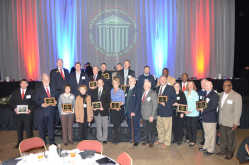 The Department of Human Services Division of Community Services and Nonprofit Support recently named Bay a Volunteer Community of the Year for 2014. Each year the department honors 12 cities and towns that make volunteerism a priority, giving their time, energy, and resources to improve the quality of life in their municipalities.
Bay was honored with the award after residents completed over 13,000 hours of volunteer work in 2014.
Mayor Darrell Kirby said the main project that helped the community receive the award was an after school program sponsored by the community and volunteers. Through the program, students go to the Bay Community House after school until 6 p.m. Volunteers have snacks and activities to keep the children busy and entertained until their parents are off of work.
Another community wide project residents got involved in last year was the cleaning up the town. Mayor Kirby said the entire town comes together to clean up Bay once a year doing everything from picking up trash to painting. Bay residents' volunteer hours also came from volunteering with Make A Wish, the senior center, the community library, the community garden, the Bay Area Memorial Park, the ball park and fire department.
"We do not have a day go by in the office without someone asking if there is something they can do for the city," Kirby said.
This was the second year Bay has applied and been awarded Volunteer Community of the Year. In 2009, Mayor Kirby said the city applied for the award and got it. Compared to the other cities who were awarded, Bay was one of the smaller towns to receive the honor.
"I think it shows how much our residents care and what they want their town to be," Mayor Kirby said. "People who live in a small town love their community. They put their heart and soul into it. Its a great honor for the city of Bay."
The other winning Volunteer Communities of the Year for 2014 were Benton, Bentonville, Booneville, Blytheville, Clarkridge, Fayetteville, Fort Smith, Heber Springs, Maumelle, Mountain Home, and Warren.