Lady Warriors upset Marked Tree to reach distirct finals
Friday, February 27, 2015
The EPC Lady Warriors won their game of the district tournament and second straight upset to reach the 2A-3 district finals in Lepanto. The Lady Indians were victim number three as EPC took a 66-58 win.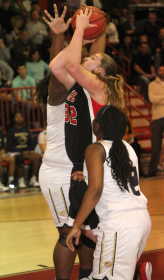 Lexi Perry, who finished with a game high 29 points, opened the game with an inside basket before Becca Bishop canned a three-pointer, Synteria Ward hit a jumper in the lane and Christian Hinson scored inside to give EPC a 7-2 lead. Kambria Marshall's jumper and Diana Harris' three-pointer tied the game for Marked Tree at 7. Ward and Dez Reel traded baskets to keep the game tied at 9. Jaleigha Garrett hit one of two free throws for EPC only to see Marshall's base line jumper give the Lady Indians a 11-10 lead. Reel stretched the lead to 13-10 for Marked Tree before Hinson hit three of four free throws late in the quarter as the teams were tied at 13 at the end of one.
Back to back buckets from Perry and a basket from Jayla Carter made it 19-13 Marked Tree. Ward hit a jumper and Garrett converted a three-point play to cut the Marked Tree lead to 19-18. Perry hit a jumper in the lane for the Lady Indians only to see Garrett convert another old-school three to tie the game at 21. Perry hit two free throws and followed with an inside basket to give Marked Tree a 25-21 lead before EPC got another three-ball from Bishop, a put back basket from Garrett and a steal and layup by Ward to give the Lady Warriors a 28-25 lead. Perry and Carter hit baskets for Marked Tree around two Bailey Constant free throws to make it 30-29 EPC at the half.
Marked Tree opened the third with a 7-0 run as Perry converted a three-point play and followed with a basket inside and Tullia Tull added two free throws to make it 36-30 Marked Tree. Hinson scored inside and added the free throw after being fouled to make it 36-33 Lady Indians. Tull made it 38-33 before Ward hit back to back buckets for EPC to make the score 38-37. Tull was good on one of two free throws before Ward hit a three-ball and Hinson scored inside to make it 42-39 Lady Warriors. Tull hit back to back shots for Marked Tree and EPC answered with an inside basket from Hinson and back to back scores from Ward making the score 48-43 Lady Warriors. Tull scored right before the buzzer to make it 48-43 Lady Warriors going to the fourth quarter.
Perry scored the first five points of the fourth with a free and back to back inside buckets to give Marked Tree a 50-48 lead. EPC reeled off the next seven points with Ward and Alyson Phillips making baskets and Garrett converting her third old-school three-point play of the game for a 55-50 lead. Tull and Phillips traded baskets followed by Perry and Garrett trading baskets making the score 59-54 EPC. Tull cut the lead to 60-58 for Marked Tree before Phillips (3), Ward (2) and Garrett combined to hit six free throws down the stretch to post a 66-58 win.
Ward led three players in double figures with 20 points followed by Garrett with 15 points and Hinson chipping in 12 points.
Tull added 15 points for the Lady Indians.
EPC beat Rector 53-49 behind 20 points from Synteria Ward and 12 points from Markiya Ward. The Lady Warriors downed Riverside in the quarter-finals 59-47 as Ward scored 23 points followed by Hinson and Garrett with 14 and 13 points respectively.
EPC fell 76-56 to Marmaduke in the district championship game.
Both teams advanced to the regional tournament that will be held at Buffalo Island Central in Monette.