EPC ousted in district semi-finals
Friday, February 27, 2015
EPC let a three point lead get away from them in the last minute of the game as BIC pulled out a 72-71 win in the semi-finals of the 2A-3 district tournament in Lepanto.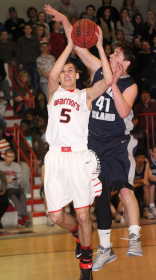 The Warriors jumped out to a 5-0 lead behind an inside basket from Aaron Scales and a three-pointer from Clay Malone. BIC came back with three straight three-pointers to take a 9-5 lead. Xzavier Reed hit a running jumper, TJ Young drilled a three-ball and Malone hit one of two free throws to give the Warriors an 11-9 lead. The Mustangs went up 12-11 before EPC reeled off nine points with Reed getting a steal and layup, Malone converting an old-fashioned three-point play and Des Barnes and Jamal Rogers each putting back an offensive rebound to make it 20-12 Warriors. Rogers added two free throws between two Mustang baskets to make it 22-16 EPC after one.
Young and Reed hit back to back layups to put the Warriors up 26-16 early in the second quarter. The Mustangs scored the next five making 26-21. Barnes hit one of two free throws and Reed scored inside around a BIC bucket to make it 29-23. Malone and Reed each scored a basket after a BIC score making the score 33-28 Warriors. Quinn Young pushed EPC's lead to 35-28 with a jumper only to see the Mustangs scored the last five points of the quarter cutting the Warriors lead to 35-33 at the half.
BIC took a 36-35 with a three-pointer to open the third before TJ Young made it 38-36 EPC with a three-ball. Reed scored the next eight points for the Warriors giving his team a 46-41 lead. TJ Young hit a three-pointer and Reed hit one of two free throws between BIC scores making the score 50-46 Warriors headed to the fourth quarter.
The teams traded scores for the first two minutes of the fourth quarter with Malone drilling a three-pointer and Reed scoring on a layup and jumper to make it 57-50 Warriors. Malone hit a free throw and Reed added two free shots around four made free throws from BIC making the score 60-54 EPC. BIC closed the gap to 60-58 before Reed hit two free throws to push the lead back to four points. Reed add four more free throws after BIC scores to make it 66-62 Warriors. Malone scored inside making it 68-65 and Quinn Young added a free throw to make it 69-67. BIC took the lead at 70-69, added two free throws to make it 72-69 as Quinn Young's jumper two seconds left set the final at 72-71 BIC.
Reed led the Warriors with 31 points on the night followed by Malone with 15 points and TJ Young with 13 points.