Yellowjackets sting Hughes for district title
Friday, February 27, 2015
Bay got off to a slow start trailing Hughes 14-10 at the end of one. Colton Watson had a huge second quarter and Tyler Pritchett got red hot in third as Bay built a 30 point lead by the end of the third and coasted to the 1A-3 East district title this past Monday at Ridgefield Christian School.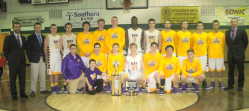 The teams traded baskets with Pritchett hitting a jumper and Watson scoring inside before adding a jumper to make it 6-6. Watson scored back to back baskets after scores from Hughes to make it 11-10 Blue Devils. Dustin Utley's basket made it 15-12 and Pritchett's score made it 17-14 before Hughes hit a three-ball late to lead 20-14 at the end of one quarter of play.
Hughes stretched the lead to 24-14 before Watson scored inside and Pritchett hit two free throws to make it 24-18 Blue Devils. Hughes went up 26-18 only to see Bay score eight straight points to tie the game at 28. Watson scored the first six with a three-pointer and hitting three of four free throws as Utley added a score down low. Watson got inside for a score and then canned three-pointer to give Bay a 31-29 lead. Robert McFadden and Watson hit back to back three-pointers to end the quarter giving Bay a 37-29 lead at the half.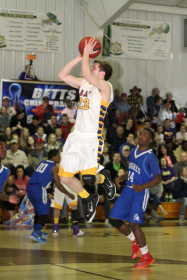 Taylor Layne's jumper and Pritchett's three-ball gave the 'Jackets a 42-29 lead to start the fourth quarter. Hughes hit a jumper before Jonathan Crain hit one of two free throws, Pritchett canned back to back three-pointers and Layne scored inside to make it 51-31 Bay. Hughes cut the lead to 51-36 with back to back scores before Pritchett hit two free throws after the Blue Devils were assessed a technical foul to make it 53-36. Crain and Pritchett each converted three-point plays after the technical foul give Bay a 59-36 lead. Pritchett, Watson and Crain scored consecutive baskets to extend Bay's lead to 65-38 before Watson canned another three-pointer to make it 68-38. Pritchett added a basket late to make it 70-40 'Jackets at the end of three and invoking the mercy rule at the beginning of the final quarter.
Hughes had back to back scores to start the fourth only to see Pritchett and Watson answer with back to back baskets making it 74-45 Bay. Matthew Barnett scored inside and Nolan Smith added two free throws late as Bay to finish the Yellowjackets scoring in the 78-55 win.
Watson led Bay in scoring with 31 points as Pritchett finished with 26 points for the Yellowjackets.